Politics
Oshodi/Isolo 2 constituents kick as party leaders present candidates from same ward for FHoR, LAHA
Oshodi/Isolo 2 constituents kick as party leaders present candidates from same ward for FHoR, LAHA
…community leaders call on APC for fairness, equity
…say without Idimogu, APC will lose constituency to protest votes.
The All Progressives Congress (APC) chieftains, members in Oshodi/Isolo Constituency 2 have called on the leadership of the party in Lagos state to engender fairness in the choice of candidates to be presented for elections in the 2023 general election in the constituency.
The party loyalists expressed fears that the party may lose out if it chooses both candidates for the federal House of representatives and Lagos State House of Assembly from same ward and polling booth in Okota.
The party faithful therefore called on APC leaders in the constituency to return Honourable Jude Idimogu, Member representing Oshodi/Isolo Constituency II in the Lagos State House of Assembly to complete his second term in office, failure which they say might cost the party victory in the constituency.
The concerned party members called on the party leaders in Lagos to avoid a repeat of 2015 poll where the party lost elections because it fielded wrong candidates.
They maintained that they remain loyal to the party but the recent development where the primary election was not masses oriented, could lead to members of the community to engage in protest votes that would make the party lose in the constituency for both the federal and state legislative positions in the next general elections
They also added that even though they are party members and might not be able to decide for the leaders, the recent speculated choice of two persons from same ward and polling booth and the manner the primary election was conducted, could deny the party of having what it desires in the constituency.
A former Local Council Development Area Secretary in Ejigbo, Hon. Chief Olu Arologun wondered why both the candidates vying for Federal House of Representatives and the State House of Assembly could be chosen from the same ward and polling booth.
According to him, it translates to marginalisation of the Ejigbo people which they say has the highest number of voters notwithstanding that it has only one ward.
He said, "Am a strong member of APC, I have been in the system for many years, over 20 years am one of the leaders of the party in the LCDA, if not the state.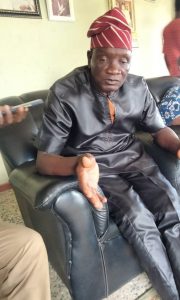 "We have never had it so bad. The issue is this, the personal interest they are taking into it is another threatening aspect that will not be able to help our party.
"When a leader is doing something, don't personalize it.
Bring it to the table, invite the leaders together, you can't do it alone, it's not possible.
"There's nothing impossible in politics, you have to carry people along, so that you don't mess yourself up.
"I don't know how the party managed to get to this level because anybody who knows the story of Ejigbo, will remind you that Ejigbo is part of former Oshodi/Isolo, in fact it's only one ward out of the 11 wards we have at Oshodi/Osolo, but it is the dominant ward.
"Without the result of Ejigbo, you can't say anybody has won in Oshodi/Isolo, the records are there.
Up till now, we are having two federal Constituencies in Oshodi /Isolo, Constituency 1 and II which is Ejigbo and Isolo, Isolo has about 5 wards, Ejigbo has only one ward.
"But Ejigbo was converted to LCDA, the authorities knew what they did.
Without the result of Ejigbo, Isolo cannot say anything when we are talking of Constituency matters.
"Now, it seems Isolo is holding everything to themselves, I don't know how they want to manage it.
No problem, I am a party leader, I cannot deny my party. But I cannot force my followers to do what they don't want to do.
"If somebody wants you, he will invite you, but somebody that does not invite you doesn't want you that's the philosophy I feel. It is really unfair, when a leader feels he can do it alone, let's wait and see," he concluded
Hon. Kolawole Fashola, party stalwarts said that the way Idimogu was treated was not what the party leaders in the community expected.
He expressed dismay over how the primary was conducted at Isolo.without carrying party leaders along.
His words, "Jude has been representing us well. We are dismayed by what is happening now. it's not what we expect from those we call our leaders especially APC leaders in this Community.
"Jude has been performing tremendously well for us in this Community. Though he may be an Igbo man, but that's not the issue. What we want is a good and quality representation.
"I don't see how you would carry yourself to Isolo and do such primary.
The man they said won the primary is in ward F3, Okota, the man for the House of Representatives is also from ward F3, the same polling booth, the same ward. That honestly does not go down well with us here in this our Constituency II, we have two LCDAs: Ejigbo and Isolo LCDAs.
"We have five wards in Isolo, but we have one ward here. But what comes out here from this one ward of Ejigbo in votes, all the booths in Isolo can't produce it with thier five wards.
"This ward has been a rallying point. When we were in Mushin, if the Ejigbo result hadn't come, you can't know the winner.
"We now come to Oshodi/Isolo also, we are the deciding factor. If they don't see or recieve our vote at the collation centre, a winner hasn't emerged, and we are still like that.
"We are aware the party hasn't announced their candidates, we are still expecting. We are only trying to remind them so as to avoid and not repeat mistake of the past.
"I don't see how one ward will claim two positions of house of Assembly and house of Representatives, I dont know how it's going to work, I don't know how they are going to do it.
This is absolutely marginalizing a deciding factor in this LCDA. How can you pocket majority; forced it to be swallowed by the minority?
"The five wards in Isolo are not up to one ward in Ejigbo. Look the length and breathe of Ejigbo, imagine this insult, thinking we will be happy to vote for whosoever that comes without recourse to us in Ejigbo?
"Since that day the report filtered that there are subterranean moves to deny Hon Idimogu ticket, we are not happy about it. We believe Lagos should be used as a yardstick to express what unity and love to one another is all about.
"You have to allow others around you free hand to governance.
"We are waiting for the party decision believing they will do the just thing and give us our own fair share, because it wouldn't sit well with us that we will wake up on the election day and say we want to vote for people from the same area and same polling unit.
"We have not seen this combination before, it hasn't been like this before," he averred.
Also speaking, Babatunde Kayode, member of APC from Ailegun ward advised the party to tow the path of fairness while reminding the leaders of 2015 election experience, how the vote went, the result and defeat Idimogu handed down to his opponent then.
"We all know that there is a missing link here. If they want to balance this equation, it's better they chose one of the two candidates from Ejigbo here not the current combination being speculated of two candidates from the same area and from same booth, it's not fair at all, that means they are telling us that we don't have persons in  Ejigbo who are qualified .
"If the party fails to do the needful by balancing this sharing formula, the party will lose. We need to tell ourselves the obvious truth, there will be protest vote and boycott.
"The last election, when party members did not like the person flying their flag, they casted protest vote.
"I want to draw it loud and clear to the leadership of the party that if they fail to do the needful, they may lose the two positions as they did when Muniru lost to PDP candidate of House of Representative and Ajomale lost to PDP then.
"We want them not to allow history to repeat itself. Their action will boomerang. One obvious fact to note is that the leader Chief Ajamole has just one vote, his son has one vote, but I know the majority have the greater vote and will carry the day.
"We are not fighting the party, we are loyal party members. We are not ready to decamp. We are sounding this warning to them because we don't want our party to lose
"We are not threatening them, this is just to bring to their memory where we are coming from. They should not kill APC in Constituency II, of Oshodi/Isolo.
Prince Adewoyin Sunday while speaking, told reporters that he had lived in the constituency for over 42 year saying he knew the political terrain of Ejigbo.
He advocated that when someone wins election in a.particualr party, he is allowed to atleast go two terms before another person would be brought in.
He explained that Idimogu, had his first term in PDP before he decamped to APC where he is about to conclude his first term adding that he should be allowed to have his second term in APC before asking him to quit the stage.
He warned the leaders to beware of aftermath of denying Idimogu the second term ticket to the state House of Assembly.
He stated that "What they have done by the way we are hearing the tickets are being decided in this Oshodi/Isolo. The leaders should think of the aftermath of their action.
"Today, a Nigerian is working in Whitehouse. What's the difference between Igbo and Yoruba? Moreover, the young man is married to a Yoruba lady. That shouldn't be a criterium anyway. Jude is a fine gentleman.
"For equity to reign in this area, the sleeping dog should be allowed to be. Let there be one Igbo and one Yoruba.
We have taken the lion share which is house of Representatives.
"Let them have the House of Assembly for fairness and equity. They are here, they are part and parcel of this environment.
"I pray the party realize itself and not tread the path of destruction.
"I can recollect that in 2015, our vote was so low, Asiwaju called me, asked if I was still in the area that our presidential vote was low. I promised him we will work on it. Thank God in 2019, our selection of Jude Idimogu was right, it paid off.
"Jude came and improved the voting strength of this area, I pray his efforts will not be in vain.
"We want the right thing to be done so that our party will excel once more.
Four years is very short. This last primary was a sham. It was not people oriented primary.
"One thing is to win primary, another thing is to win the general election that is more tedious. That is why we need to think fast and wisely so that our efforts will not be in vain
"Let the sleeping dog lie. Jude and Johnson should be allowed to be and finish up in the best interest of our dear party. We don't want this confusion."