Politics
Omo-Agege challenges Okowa to clear himself of allegation of floating bank with Delta state money
Omo-Agege challenges Okowa to clear himself of allegation of floating bank with Delta state money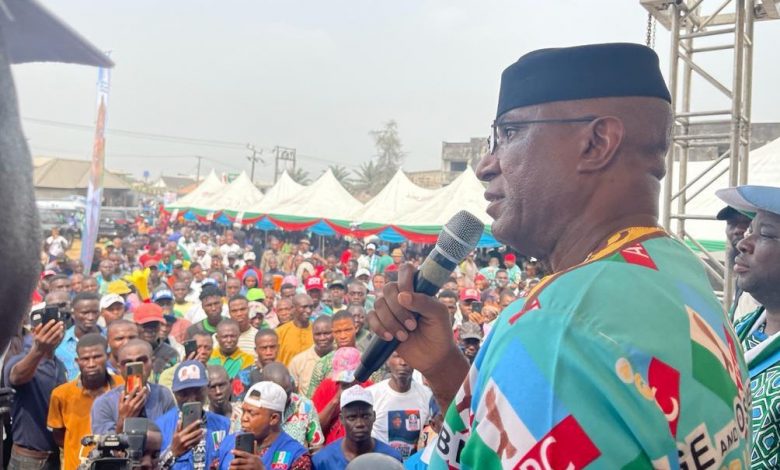 …as pensioners non payment of entitlements
Deputy President of Senate and Governorship candidate of the APC in Delta State, Senator Ovie Omo-Agege has asked the governor of Delta State, Senator Ifeanyi Okowa, to clear himself of widespread allegations that he may have diverted N25 billion from the over N4.2 trillion which accrued to the State in the past seven and a half years to float a bank.
Senator Omo-Agege threw the challenge while addressing a mammoth crowd of party supporters at the campaign rallies in Isoko land, Friday, January 6.
Ima Niboro, Director, Communications and Media Strategy, Delta APC Campaign Council and Member, APC Presidential Campaign Councilstat3d this in a release made available to our correspondent.
Omo-Agege also made a clarification on issue of loans obtained by the Okowa administration, saying he would honour legitimate commitments made by the administration but would not be obligated to repay loans obtained in the twilight of the Okowa government.
"While we are not happy that the State is over borrowed, we will be obliged to honour and service any loan taken by the Okowa government before now and which followed due process.
"But any further loan, including the said N40 billion loan being sought by Governor Okowa four months to the end of his government is not acceptable, and any bank that gives such loan does so at its own risk."
Speaking in Ozoro, Isoko North LGA, he described as laughable, the mantra of PDP hoping to rescue Nigeria whereas, it's vice presidential candidate and governor of Delta State, Senator Ifeanyi Okowa failed to rescue Delta State.
"After they destroyed Delta State, carried away our money, and after members of the House of Assembly and their Speaker could not look Okowa in the face and ask questions, they are coming to say they want to rescue Nigeria."
He assured families of the five gallant members of APC who lost their lives in a boat accident that their sacrifices will not be in vain.
Earlier on, the State party Chairman, Elder Omeni Sobotie after observing the level of poor infrastructure development across Isokoland said, "Okowa is a very wicked man and such people should never be allowed to be vice president."
He handed the party flags to Joel Onowakpo Thomas, Dr Sylvester Onoyona and Dr Michael Enaharo for Senate, Isoko federal House of Reps and Isoko North House of Assembly seats respectively.
Speaking, Onowakpo-Thomas said Isoko people are tired of the PDP and need to change the narrative, adding that the APC is positioned to win the 2023 elections and urged the people to vote all candidates of the APC.
On his part, Dr Onoyona lamented that for the past 24 years PDP couldn't complete the Ughelli/Asaba Road running through Isokoland and therefore called on the Isoko people to reject the PDP at the polls.
Former PDP chieftains including Hon Karo Ilolo, Hon Chief Mrs Faith Majemite and Chief Mrs Eunice Okoh who earlier dumped the party were present at the Isoko rallies. Chief Majemite personally described the PDP as "a useless party, a party of obituary, where they starve people to death, set up committees to bury them, and steal the committee money."
Ozoro born APC chieftain, Omoviro William, aka Kingibe, described Governor Okowa as a man God blessed but who decided to leave the way of God, "so we are not ready to vote for him and his PDP."
Meanwhile, in Oleh, headquarters of Isoko South LGA, pensioners who have remained unpaid by the Governor Okowa administration, stormed the APC rally to demand justice.
Led by Mrs. Patience Akpobome, they demanded that Okowa must pay them just entitlements, having devoted their lives to the service of the state.
Mrs Akpobome specifically pointed out that she retired since 2015, but has not been paid. "Okowa is a very wicked man and APC must make sure he goes to jail," she told the crowd.
Speaking earlier, Isoko South House of Assembly candidate, Ese Blessing Oghogho, and other Isoko leaders, urged the people to canvass and mobilize votes for the APC.