Maritime
NMMA: Muyiwa describes award as motivator in a job that offers less but demands much.
NMMA: Muyiwa describes award as motivator in a job that offers less but demands much.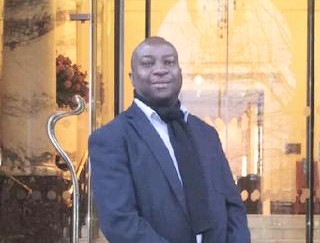 Muyiwa Lucas, award winning Nigerian journalist who has won Nigerian Media Merit Award for the 16th time in various categories emerged Maritime Reporter of the Year 2022.
Lucas who spoke to Olamide Osho was winning the maritime award for the fourth time. He described it as a motivator in a job that offers less but demands much
Congratulations on winning the Maritime reporter of the year award at the Nigerian Media Merit Award (NMMA).
Thank you very much.
How do you feel about the win? What does this award mean to you sir?
It's so great, I feel thankful to God. The award means so much to me; even though it's not the first time I'm wining it. I have won the NMMA award like 15 times in the past, but this one is so special to me because I have stayed off the award for like eight years after the last outing in 2014. Some of my colleagues back then said I should give the younger ones a chance to also win, so I stopped putting in anything.
However, just about two years ago in my office (The Nation Newspaper), the news editor said, "Look it's not about you; it's about the company", so that is how they started putting interest. Even this one that I won, it was my deputy editor that went to look for the story and put it in, he just said I should bring my picture. I didn't even know the story he put in until the award night. So that makes it very special that look, it feels great coming back on that podium after that long to win again.
Who are you dedicating the award to?
I dedicate the award to the Association of Maritime Journalists of Nigeria (AMJON). It is the body I joined when I was posted to cover the maritime beat. I found a home in that association. You know maritime is very vast, I knew nothing in the industry; the body took it upon itself to put me through. I met very wonderful people there; people like Ismail Aniemu the publisher of JournalNG, very fantastic guy. I met him for the first time in my life at a very critical time in his own life too. He brushed his own problems aside gave, me a venue to meet up; told me to come with a pen and paper and he gave me a lecture for three hours. He taught me like he was teaching a primary schoolboy; gave me a breakdown of the industry, on which I started to fly.
People like Segun Oladipupo of AMJON, fantastic guy. The first time I went to SIFAX, I never knew what they were about. I met people like Innocent Orok who took me round and invited me to various events, just to keep me abreast. Even stories that I don't even know of, AMJON members were kind enough to send to me and put it on the platform. People like Lola; my President Paul Ogbuokiri, the Vice President, Andrew Otulu, everybody, fantastic set of people. It was love all round from AMJON.
So, this is what makes the award special. That was why I dedicated the award to AMJON, because I FEEL that it was a payback time and I had to show them appreciation for all they did.
I also thank AMJON members so much, they kept my job for me during COVID-19, and I will tell you how. I traveled to the UK then, and unfortunately the airport was closed due to the travel restrictions so I was stuck and couldn't come home for three months.
I was cut off but had a job to do in Nigeria. How do I work from there? AMJON were always putting up trending stories on the platform and I will pick and rework it, some of them will call me on WhatsApp and send the story to me. I also used the AMJON contacts that I got, I will call some stakeholders like our patron Honourable Tony Iju Nwabunike to interview him. I did a comprehensive interview with him via WhatsApp call. Same goes for Dr. Kayode Farinto and the others; and they will always give me perspective to the story that has been written, so it doesn't look as if we are all just using the same story.
Bottom line is that the idea of the story came from AMJON platform and members, so that's why I call AMJON a family, because without them, I don't think that the award would have been possible. They had very massive impact, especially the publisher of JournalNG, Ismail Aniemu, he is God sent.
What impact does this have on you?
The impact it's having on me now is for me to rededicate myself to this profession, because at some point I was already feeling like I've seen it all, after spending over 25 years in this job and having several awards, local and international, you know. What else do you want? It was beginning to make me relax, but with this now. It looks like I have been refueled to strive even more.
What is your approach to work?
My approach is that you must put in your best; you must do it as if it is the last you are going to do because in this profession, you are remembered by your last byline unfortunately. The last story you write is what you are remembered for and you also know that, In this profession, you can easily get into trouble especially with all these various laws, information act, cybercrime act and all that, you can easily get into trouble if you are not careful. Gone are the days when you feel because you have biro and paper, you can publish and do anything you like. So my attitude to work is to tidy up all the loose ends.
I always ask myself, what I want to achieve with a story. Especially if it's not a news story, if it is some form of feature writing and investigation, what do you want to achieve with this? Who is this story going to hurt? How does this story help the society, does it help the institution you represent? Does is make the society a better place? Is it educative? What sort of message is it sending out? Are you maligning somebody? And then I now situate it to myself, reversing the situation, that is, if somebody was doing this against you, how would you feel?
These are things that guide me and make me to go on to face whatever I want to do squarely and ensure that I follow the tenets of my profession which is to be objective and balanced. Once these criteria are met, I am satisfied with my conscience.
How do you relax?
Well, is there any form of relaxation in journalism? That's the first thing. I don't think as journalist we have anytime to relax and I think that this is a very germane question you have asked. There is a need for us to find time and relax, take care of our health, our body. I can't remember the last time I did because of, the nature of this job especially when you are in a daily newspaper.
You go all day, you are back in the night and in the morning again, you are out on the streets and all that. Even when you are supposed to be on leave, your oga will tell you, "oboy, it's working leave I'm going to grant you oh". So I think it's very important that we (journalists) relax. On the few times I have had the chance to just stay off work a little, what I try to do is just to sleep as I don't keep too many friends. Most people I interact with on the phone are members of my profession, just to tap knowledge here and there. I interact with most AMJON members, even though we don't see always, especially with this COVID thing.
Are you open to mentoring younger journalists?
Most certainly, I have always done that, I have being doing that, I'm still doing it and I still hope to continue doing it, because when I started as a very young journalist myself in '92, it was people I met on the job that mentored me, like my former boss of blessed memory back in Daily Times; also my friend Femi Olabode, I'm sure he doesn't even remember this now, he is out of the country now. I have done a couple of that, and I'm proud to say that even some of the younger journalists that I have mentored are also award winners and it gives me joy.
I remember that back the in Tell Magazine, one of the IT students that I mentored won an NMMA award before the completion of her one year industrial training. There is also another IT guy that I mentored when he was there, he has a PhD and now lectures in an American University.
Even in my present office, there are boys I still mentor and encourage because I too have people that still mentor me. People like Salif Atojoko of NAN; my former editor, Dipo Onabanjo, we call him The Godfather. it's a life of mentorship, until one dies, you keep giving knowledge, the moment you feel you know it all, that is the day your downfall begins. I have mentors, I have people I also mentor and will continue to do that.
Lastly sir, what is your advice for younger journalists?
My advice for younger generation of journalists, first and foremost if you are looking for money, if you feel you want to be very rich, then you are in the wrong profession; that is the truth, because journalists as it is in Nigeria today are paid peanuts. It doesn't mean you can't be rich, you can. If you can do so many other things that are legitimate. For instance, you can write books as a journalist, you can edit books, you can write biography of people and many other things. You can add public relations to it, though it's not journalism, but it is allowed and legitimate money. But does that money give you the kind of wealth you want? That's something you have to decide for yourself.
If you take that aside, my advice for you is; you need to imbibe the tenets of the profession. What are the tenets of the profession? You must be objective and balanced in your report, avoid anything that can cause you scandal like libel; defamation of character, especially in this time and stage of cybercrime act. You can easily get in to trouble. I will implore every young journalist to go and study the cybercrime act, especially for those of us that want to do online publishing, so that you don't get into trouble. You know only one word can change the meaning of a sentence, so you need to be very meticulous, equip yourself with knowledge, go for trainings, seek advice of older generation.
When you produce your script, let a more experienced journalist look at it for you in terms of editing and then be calm, don't put money first, money will come later. And then be thorough with your job, you must be able as a young journalist to earn people's confidence, it's what will take you to the top. And when I say people, I mean the contacts you have, it is your treasure.
You must be able to earn their confidence. If you can do that, then you know that the sky is not even your limit, there's something beyond the sky that you will get to, so you need to earn trust, you need to earn good reputation. Once you do that you will be a star because once your contacts or stakeholders in your industry can trust you, they will even give you information and documents you don't expect. And when they give you that too, you take it, you dissect it, and then you go a step further to verify or to confirm whoever is affected so that you would have been seen to be balanced in your reporting. That's my advice.
If you do all that with the help of God, you will live a very decent life and will be a star and who knows, the younger generation, the journalism future for them will be better than ours. So they are not going to be poor like the older generation.