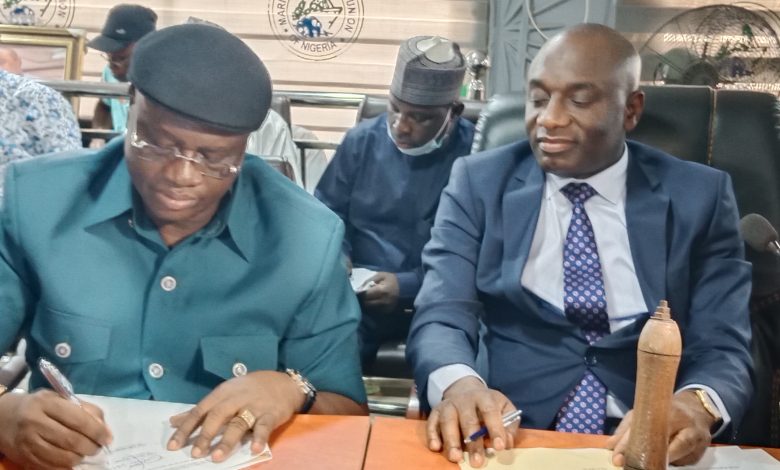 …set to establish presence in all dry ports, jetties, seaports
Maritime Workers' Union of Nigeria (MWUN) and the Nigerian Association of Road Transport Owners (NARTO) on Wednesday entered into a collaboration to further manage the menace on port access roads on Nigeria.
The collaboration is also intended to cater for the welfare of members of both parties.
Among the terms of reference of the collaboration include establishing the presence of both parties in all dry ports, Seaports and jetties across the Nation.
It is also intended to create driver/dockworkers welfare, revenue generation, protection of members of both organisations and creation of insurance for Workers' welfare scheme.
Speaking during the inauguration of the committee, President General of the Maritime Workers' Union of Nigeria (MWUN), Comrade Adewale Adeyanju called on the management committee members to learn from the mistakes of past failed collaboration to drive the initiative to a success.
He also charged both organisations to be focused and utilise the opportunity judiciously for maximum benefits of the members
On his part, National #of NARTO, Alhaji Yusuf Lawal Othman expressed delight over the collaboration while expressing confidence in the success of the venture
He also challenged the management committee members to observe due diligence in the course of carrying out their assignments.
The followings were selected as the Board of Trustees of the venture: Alhaji Yusuf Lawal Othman, Comrade Prince Adewale Adeyanju, Ibrahim Ohize, Abubakar Bello, Patrick Onyegbulen, Ifeanyi Mazeli
Others include; Aloga Ogbogo, Kasim Ibrahim, Salami Ganiyu and Ogunyele.
For successful driving of the collaboration, a management committee of twelve members drawn from both organisations was immediately constituted
Members include; Stephen Okafor as Chairman, Abdullahi Eroje as Co-Chairman, Ajayi Ayokunle as the Secretary while Hananiya Anderson will serve as Assistant Secretary
Other members are: Ibrahim Ohize, Abubakar Bello, Kayode Odunowo, Patrick Oyegbulem, Akeem Ekundayo, Elder Basset Udoh, Abdullahi Inuwa and Cecilia Otobo.