Politics
Lagos APC chieftain expresses confidence in Idimogu's candidacy
Lagos APC chieftain expresses confidence in Idimogu's candidacy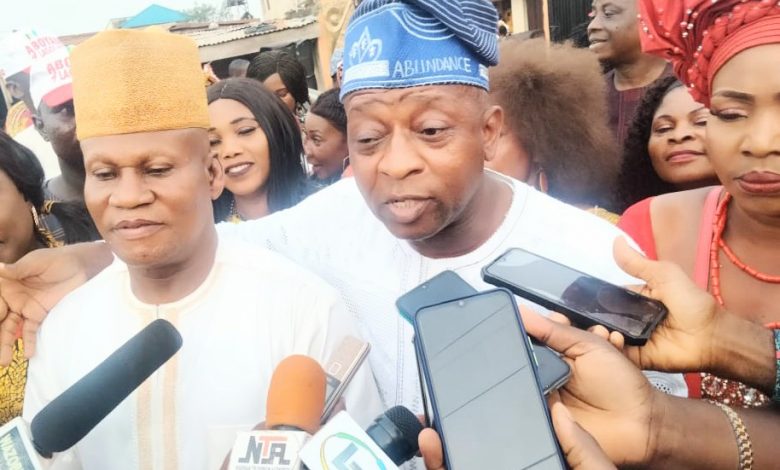 The Vice Chairman, All Progressives Congress (APC), Lagos West Senatorial Zone, Babatunde Sunday Aboyade, has expressed confidence in the personality of Hon. Jude Idimogu, member, Lagos state House of Assembly representing Oshodi/Isolo II Constituency and other aspirants from the party in the buildup to the 2023 general elections.
Aboyade said this after his inauguration held at the Igando-Ikotun Local Council Development Area, Ikotun.
The Vice Chairman said he would afford all candidates equal opportunity to prove their mettles. Stating that Hon. Idimogu has been a credible and acceptable candidate in the Senatorial District over five years now.
"Jude has been my friend long before Politics, we were colleagues at Bureau De Change. Like I said, God will take control.
"Our strategy is to give every aspirant equal opportunity. I can see he has the backing of his people, we will go to the field to prove who is who.
He reiterated his resolve to reconcile dissenting members of the party who feel aggrieved by one reason or the other in order to form a bond and stronger alliance against any party in the state especially as the electioneering year is fast approaching
His words, "Our priority is reconciliation, without reconciliation we can't move forward. Politics is a game of conflicting interest.
"With understanding and counselling, we will move forward.
With the reconciliation going on across board, we are going to come out stronger and better in 2023.
"We are working on that. I have the support and solidarity of the non-Indigenes, you can see their presence: the Igbos and Arewa too.
"You could see what happened at the inauguration venue today, we are working on improving on the relationship. Before we go into the primaries, I assure you we will strengthen through reconciliation.
He however called on the people of the Senatorial District to work together and cooperate with one another so that the party can go higher and higher.
"My message to our people of Lagos West is to work together, Cooperate with each other as one big family so that we can go higher and higher."
Also speaking, Hon. Idimogu congratulated the Vice Chairman on his new role, called for unity among party members to be able to face opposition in 2023 election.
He added that the new Vice Chairman would excell in his office having prioritized reconciliation and uniting aggrieved party members in the District.
"Am happy that apart from being my friend, we have met again in APC, thank God he is my leader in my own senatorial zone.
When you show love, it's reciprocated. he extended the invitation that I should come with my team, we have come to celebrate him, to wish him well in his new responsibility.
"The new responsibility that God has given him, he will excel. Not only that, he will bring other factions that are not in our midst.
"And I know that with his ability and capability, he will do well.
"Reconciliation is key because within and after election, there would be some people that will not be happy, apparently, when the chips are down, a good leader will bring everybody together for reconciliation and move as one family, to firm common front which is to defeat your enemy.
"We will give him all the support he needs, like he has mentioned, we are many in our senatorial zone, we will work together, mostly, non indigenes that are not in our parry will find our party attractive and join us.
"At the end of the day, we will be much bigger than what we are today and I believe his appointment will be number one," he enthused.
Hon Idimogu who is currently the Chairman, Wealth Creation and Employment in the Lagos State House of Assembly has declared his intention to contest for the House of Representatives to represent Oshodi-Isolo II federal constituency.