Sport
Ex- International footballers birth "WAM" Sports Academy Isolo, Lagos
Ex- International footballers birth "WAM" Sports Academy Isolo, Lagos
…Extol Hon Idimogu's unmatched support to talent hunts in Lagos
In a bid to catch them young towards becoming top notch footballers, WAM Football Academy has commenced it's talent hunt programme for teenagers and youths under the Isolo Local Council Development Area (LCDA) in Lagos State.
The dream aimed to catch young the teenagers and youths who before now have been only regurgitating on their fault lines and exacerbating crime will direct them to useful thoughts. It targets young footballers between the ages of six and fifteen within the community and beyond.
Speaking at the commencement of training session ceremony held on Friday at the Metropolitan College, Isolo, Chairman of WAM Football Academy, Mr. Williams Ayodeji Michael, disclosed that the soccer initiative was part of efforts at giving back to the society.
Ayodeji, an ex- international who
Was part of the 1993, Under 17 World Cup squad, said the Academy was established to hunt for talents in football at a tender age.
He said, "We have been looking for an avenue to do this in this area, but our undoing has been lack of pitch. But to the glory of God, we have taken off today. "
He however commended the lawmaker representing Oshodi /Isolo Constituency II in the Lagos State House of Assembly, Hon. Jude Idimogu for his contribution and believe in them. His immense Support to grassroot soccer development. Stating, "I say big thank you to Hon. Jude Idimogu. If not for his support, we wouldn't have got to where we are today.
"If we have two of his kind in this constituency, we will achieve greater and mighty feat for the people of this constituency. We thank God for the gift of him, we are proud of you our Honourable."
Ayodeji who had played his professional football in such countries as Qatar in 1998, Yemen 1997, Saudi Arabia 2001 and Kuwait said:
"We are giving back to the community what they have given to us so far.
"I have walked around the community and found out that one thing lacking which is contributing to the spate of crime around us is idleness.
"Left, right, and Centre you see talented footballers being engaged as agberos; talented footballers as political thugs, hawkers on the street. Very worrisome, destroying our youths whereas their talent waste away.
"I have looked at all that, I have said such must stop in this Community.We have a lot of youths from ages six, seven and upwards. Some of them follow their parents as political savages. My aim is to bring these boys together to actualize their dreams.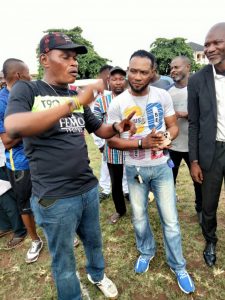 "Our message to them is that you can do something better with your talents by coming to the field to play. Most of these people you are seeing idling away is because nothing to engaging them. But when they come to the football pitch, they get busy and think responsibly.
"Even those that do not play, when they have friends that can play whom they go regularly to the pitch with, it will also make them forget evil."
Similarly, Director of Sport WAM, Mr. Tony Ehis explained that the focus of the Academy is to groom players from the grassroot in order and expose them globally.
Ehis, who was a former Jasper United player stated that the Academy was working round the clock to harness the God given endowment in the children of the community adding that very many ex-Super Eagles players are deeply involved in the project to ensuring that standards and qualities of the players are met.
According to him, the game of soccer requires knowledge, wisdom and understanding, pointing out that modern day football makes use of the computer alongside classroom learning.
The Sports Director Stressed, "We are officially kicking off today. The vision and goal is to make them special players and also make them the best of their peers.

"We want to announce them nationally and internationally, and get better value and market for them.
"We realised that no team represents Lagos State at International level and we brainstormed on this and come up with WAM international academy. We want to raise a club from Isolo that will represent Lagos State. We want to taking people from the local clubs. Create room and opportunity for them to excel in Europe.
Asked about those in support of the project, he said "We have the Hon. Chairman, William Ayodeji, myself, my assistant and other ex internationals backing us. We have them, Peter Rufai, Austin Eguauveon, Samson Siasia. The backing of Lagos State House of Assembly and by extension Lagos State Government is intact
"We had meeting with all the people that matters in football. We are in touch with ex-Couch Willy Bazuaye. Not just ex international alone, other bodies.
"We intend to get support from some NGOs that will support us, football management is not just one man affairs. It's a group thing. If you don't know how to synergize, you miss your mark.
On his part , Coach Oladele Akintade said that Nigerian coaches are yet to realise the importance of grassroot soccer noting that most team managers source for already made players.
Akintade lamented that grassroot football has been so much abased by some agants of the Lagos State government who are only interested in grabbing most land spaces that were hitherto act as football pitches, converting them to their private property thereby denying the youths spaces for training.
"Nigeria football don't appreciate grassroot soccer. No big team or premier club comes to the grassroot to pick players. What they do is to go from one big club to the other. But we are the one doing the job.
Coach Idowu Anthony who is the chief coach of the academy said though he is from Badagry area of Lagos, that he developed his coaching interest in Isolo. Commended the chairman, Williams Ayodeji popularly known as AY for his die-hard spirit towards the dream.
"I came back from Sudan last year. My brother here told me, Coach come back home, we need you. When you left, football left with you, see, we need you to come back.
"I asked what will I be coming to do, he said plans are on ground to raise an academy.
"Am grateful that dream has come true today. By the time we will be Launching this academy, you will be marvelled by what you will see in them and the stuff they will be made of"
The Assistant Sports Director of WAN, Michael Rotimi Husswin, who is also an ex-footballer said they all started from the street.
Restated that the academy will go far because all the people behind the vision are all experienced and have fear of God.
Husswin said gone are the days when football was seen as game for academic never do wells, that football academy offers young lads opportunity to pull along both football and academics same time.