Maritime
NAGAFF boss cautions members against false declaration; engages customs on trade facilitation.
NAGAFF boss cautions members against false declaration; engages customs on trade facilitation.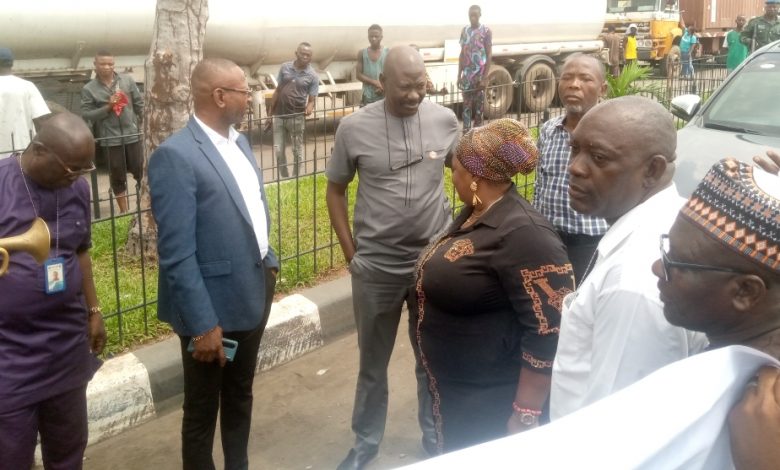 The National President of the National Association of Government Approved Freight Forwarders (NAGAFF) Chief Ezisi Tochukwu has tasked members of the association to false declaration of cargo as well as other clearance malpractices in the port
He made the call when he embarked on a familiarisation visit to the PTML chapter of the association, earlier this week.
The President and other top executives of the association also engaged management of PTML Command Nigeria Customs Service and Grimaldi Shipping Agencies on trade facilitation.
Ezisi who urged members to always resist the temptation of clearance of cargoes under the code name "Outside Valuation" which he said was akin to toiling with somebody's life.
The National President who said that the PTML unit has been prompt to their obligations to the association's headquarters charged them to keep it up.
He said "My visit here today is part of my innauguration promises which I mentioned on the day of my innauguration that I will visit every chapter of NAGAFF, and that we have started. PTML is the second Command we have visited.
"I want to use this opportunity to tell members and executive of PTML that by my records, PTML is my best Command.
"Your obligation to the headquarters has always been prompt. PTML has never failed. I have seen the controller. We had a robust discussion which the controller too made a whole lot of remarks.
"The subject of his speech anchored on honest declaration.The controller is giving us 60% compliance, but if we can make it 80% that will be wonderful.
"My assurance to every atv PTML command of NAGAFF is that you have a president with capacity.
"My assurance to you all today is go out there, do your work within the law. Any challenge, get to your chairman, he will get to me at the headquarters. I promise you, within 48 hours you will see me here. But make sure you do the right thing.
"The controller did mention about outside valuation. I want to use this opportunity. If you're a member of NAGAFF and you are part of the people doing this desist from it forthwith."
Controller PTML Command NCS Comptroller Suleiman Bomai had earlier raised concerns over the rasing cases of outside valuation by freight agents.
Bomai appealed to the NAGAFF high command to sensitize members of the chapter to ignore any form cargo clearance in form of outside valuation.