Religion
Blessings As Christ Apostolic Church Mount Zion Ejigbo Celebrates 16th Years Anniversary.
Blessings As Christ Apostolic Church Mount Zion Ejigbo Celebrates 16th Years Anniversary.
Emmanuel ikpeama.
Members of Christ Apostolic Church,.Mount Zion, Ejigbo Lagos have reasons to be happy and celebrate the goodness of God, as the seed of growth planted in the Church 16 years ago, has germinated and grown even beyond.
The Resident Pastor Prophet (Dr) Emmanuel Ayobami Ariyo made this assertion on Sunday during the 16th Anniversary of the Church.
In his sermon on the topic" Why should we Celebrate," Prophet Ariyo appreciated the faithfulness of God in the lives of every member since the foundation stone of the Church was laid, stating that God in his infinite mercy has continually blessed and kept his own, while charging members to remain steadfast as God always rewards the devoted ones.
The Prophet who is known for numerous prophesies that have come to past, said that there were 10 reasons why Christians should dance and celebrate, added that when Christians celebrate, it is for them to glorify the name of the Lord, as it will bring peace, draw them closer to God, increase their faith, guide them against enemies and bring testimonies to them when they celebrate.
He urged the members not to loose faith in God, pray fervently and believe that He is the same God yesterday, today and forever, while commending members for their co-operations, given to the things of God which he said accounted for the huge success of the Anniversary.
He went further to appeal to Christians not to loose focus but remain steadfast as Christ is coming soon "We are living in perilous times, the things going on around the social media depict that God is coming soon and that the blessings of God should not stop us from the fact that Christ is coming back.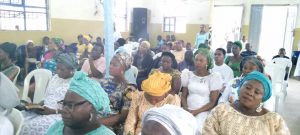 "This world is a market place where very soon we will go back and give an account of how we live our lives" he submitted.
The President of Men Ministry, Deacon Taiwo Akilaja said that the essence of this year anniversary is to thank God almighty for his protections, his grace and mercies.
He noted that since the inception of the ministry,no life has been lost, rather God has been using Prophet Ariyo Emmanuel to bless the members,as some has travelled out, some have been progressing in their various work and business.
While commending Prophet Ariyo,his wife Pastor Mrs Ope Ariyo and other Evangelists that God has been using to lift up the members spiritually, financially, morally,prophetically and otherwise.
Highlight of the event were presentation of songs rendered by various groups,drama presentation, special numbers and testimonies by members of the church.