Politics
2023 elections: Archbishop Onuoha recommends award of failure for Mahmood Yakubu, INEC boss.
2023 elections: Archbishop Onuoha recommends award of failure for Mahmood Yakubu, INEC boss.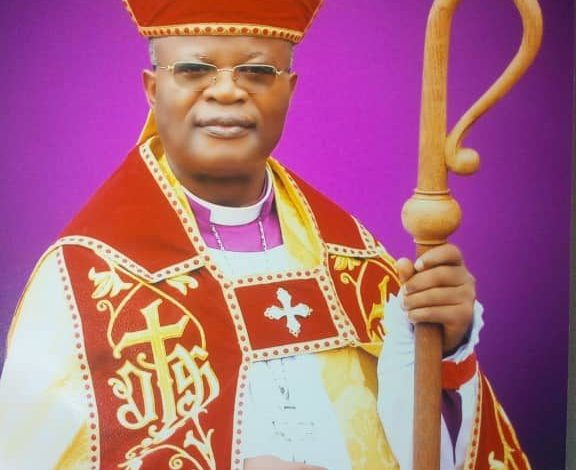 The widely perceived low performance of the Independent National Electoral Commission (INEC) under Professor Mahmood Yakubu has not in anyway conferred glory on him according to Archbishop David Onuoha of the Church of Nigeria Anglican Communion rather, it has ingloriously stood him out for national award in failure.
Bishop Onuoha stated that the INEC Chairman Prof. Yakubu should be seen as the number one enemy of Nigeria, who deserves no better honour on him than an award of Grand Enemy of the Federal Republic (GEFR).
The outspoken prelate who is the Bishop of Okigwe-South Diocese of the church in Imo State, made the declaration recently during his presidential address at the 2023 Synod of the church held at the Saint Paul's Cathedral, Ezeoke-Nsu, Ehime – Mbano Local Government Area.
Presenting the 120 pages Presidential address, Onuoha regretted that despite the over N400 billion tax payers' money graciously approved, coupled with uncountable promises and assurances of credible elections made by Yakubu and his men, all turned out to be barefaced kidnap of the future and hope for a better Nigeria.
Archbishop Onuoha implored Nigerians especially the youths not to be discouraged by recent happenings, they should rather be steadfast, at the same time called on the judiciary to stand out to be counted as truly hope for the common man.
Stating no sacrifice will be too much to change
the status quo that has impeded and hindered the progress and development of Nigeria far too long.
Archbishop Onuoha said, "The deceit, falsehood and impunity
employed in this particular election especially that of the president is unprecedented in the history of nations. An ample opportunity to get things
right and reposition Nigeria for greatness was sacrificed on the altar of greed deceit, selfishness and impunity.
"The INEC chairman, Prof. Mahmood Yakubu should be declared the number one enemy of Nigeria. I recommend a National award of 'Grand Enemy of the Federal Republic'(GEFR) for him. In saner climes, he would have either resigned or be arrested and charged for sabotage of Nigerian electoral process,"
He patted Nigerians on the back, that despite all forms of provocation within and after the elections, they rejected the options of demonstrations and violence, however choose
to be civil.
Archbishop Onuoha who is also the President, Christian Council of Nigeria(CCN) reminded those that have won their way to political positions fraudulently that the anger of God awaits them.
"While we congratulate all those who truly won and were returned elected, we pity those who robbed others of their victory
"Woe unto them that call evil good and good evil;
that put darkness for light, and light for darkness:
that put bitter for sweet, and sweet for bitter!
wise in their own eyes,
Woe unto them that are wise in their own eyes and prudent in their own sight (Isaiah 5:2,21)."
Onuoha urged the judiciary to strive to be fair, bold and courageous in handling the petitions before it in order to save the Constitution and the society from drifting to anarchy.
"Now that the matters are before the courts, we passionately appeal to our judicial officers to endeavor to be fair and just in handling the petitions
before them. We expect that falsehood will be exposed and truth upheld.
The Archbishop frowned at politicians who abuse judicial processes through their fraudulent maneuverings that has led to the courts giving stamp of authority to illegalities.
"It may be necessary at this stage to find out why politicians would always be too happy going to court after perpetrating obvious electoral fraud.
The usual slang "declare me winner and let him go to court" indicates a major flaw in our electoral jurisprudence.
"This is because the court in most cases has confirmed those
electoral fraud and manipulations thereby giving a stamp of authority to illegality.
"We are worried that the high level of impunity witnessed in our society today especially in electoral matters portends grave danger to our nation if not arrested urgently.
"The civil disobedience that might follow any attempt to stamp judicial authority on the scam the 2023 presidential election turned out to be will not be good for anyone.
"We must always remember that the factors that make oppression possible also make struggle for liberation inevitable. We therefore call for a review of our laws with a view to removing any provision that may encourage evil and embolden wrong doers.
Judicial officers must be bold and courageous to discharge their duties to save this society,"
The four days synod of the Okigwe- South Diocese which started on Thursday 18th May ended on Sunday 21st May 2023
at the Saint Paul's Cathedral Ezeoke-Nsu, Ehime – Mbano of the state with the theme, 'The Desolation on The Moral Alter of our Society: a Plea for Repentance' taken from the book of Mark chapter 13 verse 14.
The synod which had dignitaries from all walks of life was the third session of the 10th synod of the diocese which featured: all youths day, reading of presidential address and launching of third phase of the diocesan hospital development fund..