Africa
Education
Life Style
Without grassroot security, no sustainable development – Eweka, Lagos NSCDC Commandant
Without grassroot security, no sustainable development - Eweka, Lagos NSCDC Commandant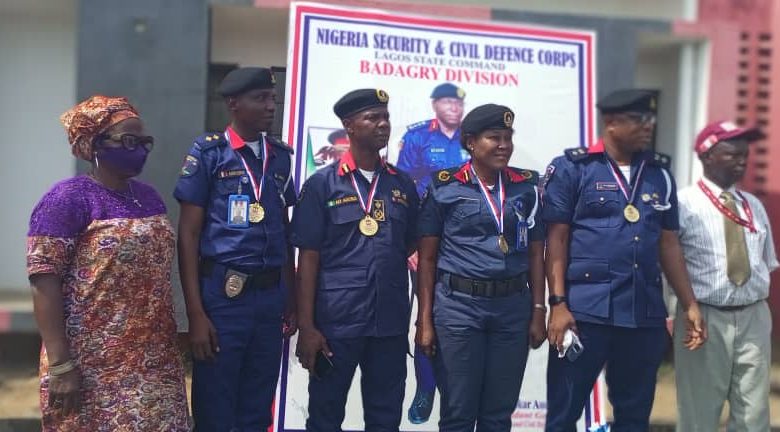 Without grassroot security, no sustainable development – Eweka, Lagos NSCDC Commandant
The Commandant, Nigeria Security and Civil Defence Corps (NSCDC) Lagos command, Commandant Okoro Eweka on Thursday at a public sensitization lecture on grassroot security with the theme: "GRASSROOT SECURITY," and the topic: "TAKING CHARGE OF THE ENVIRONMENT BY BEING SECURITY CONSCIOUS," has said that without grassroot security, there is no tendency for sustainable development in the country.
The program is in commemoration of International Civil Defence Day Celebration
Assistant Superintendent of Corps I (ASCI) Abolurin Oluwaseun Olumide, Public Relations Officer (PRO), Lagos command, made this available to our correspondent.
The PRO stated that the state command Commandant, NSCDC, Commandant Okoro Douglas Eweka had put on ground some robust programmes ahead of March 1, every year, of the annual event.
The Badagry Division of the Command, led by Chief Superintendent of Corps (CSC) Akinyemi Rasheed Ayodeji, organized a public sensitization programme for officers and.men of the Corps.
Commandant Eweka Douglas Okoro who was represented at the event by Deputy Commandant Ayo Agoro gave the opening remark at the event.
In his lecture, Commandant Eweka who was represented by ASC 1, Abolurin Olumide, said that NSCDC is not just a modern Federal Paramilitary Agency of Government, with international membership, but a well grounded grassroot security organisation, which is as close to the populace to the teeth.
"We live and dine with Nigerians and without security at the grassroot, there can not be peaceful and sustainable development in the larger society," he said.
In attendance at the sensitization programme were other security agencies as the Nigeria Correctional Service, Federal Road Safety Corps, Lagos State Fire and Rescue Service.
Other organizations represented at the event include; religious bodies, local council authorities, traditional institutions, community leaders, non – governmental organization (Salvation Army), youth Corps members, women, youths and the media.
Finally, the Divisional Officer, CSC Akinyemi Ayodeji, praised the synergy between the NSCDC and other services in the nation, particularly with the National Drug Law Enforcement Agency (NDLEA), which was proactively, recently, boosted, by the erudite Commandant General (CG) of Nigeria Security and Civil Defence Corps, CG Ahmed Abubakar Audi, PhD, mni, in a bid to nip insecurity on the bud at the grassroot and the larger society.