Maritime
We are part of NLC protest," MWUN declares 
We are part of NLC protest," MWUN declares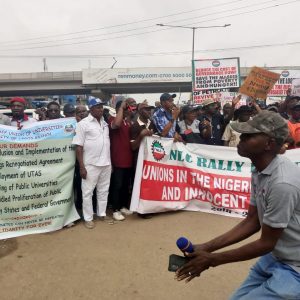 The Maritime Workers' Union of Nigeria (MWUN) said it joined the Nigerian Labour Congress on its solidarity protest against abandonment of Nigerian university students
Recall that the national body of labour workers said it would join in the nationwide trend which began on 14th February, 2022 to demand for 2009 agreement.
Some of the demands of ASUU include the immediate conclusion and implementation of the Prof Nimi Briggs renegotiated agreement; immediate deployment of UTAS
Others are; adequate funding of Nigerian universities, stopping the unbridled proliferation of Nigerian universities by states and federal government.
In its solidarity with the parent body, MWUN stated that 3ven though the ports were not shiut down, it joined in the protest against continued closure of Nigerian universities by the federal government.
NLC Rally in support of unions in the Nigeria tertiary institutions and innocent Nigerian students
Speaking with our correspondent, Uche Igweonu, National Treasurer of MWUN said that the union was part of the protest adding that members were just returning from the venue of the protest
He however denied the fact that the union jettisoned the parent body in its call for protest against the national malady.