Education
Security agencies charge journalists to report stories of national interests 
Security agencies charge journalists to report stories of national interests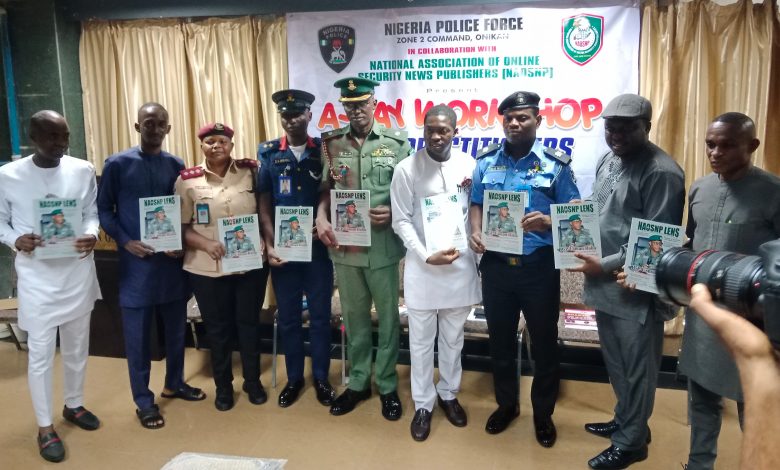 Security agencies and experts on Wednesday called on media practitioners to allow national interest supercede personal interests in their news reports saying, it is the only means to promoting positive image of the country.
They made the call at one day workshop organised by the Nigeria Police Force, Zone 2 in collaboration with the National Association of Online Security News Publishers (NAOSNP) held at Golden Gate in Ikoyi, Lagos.
The security experts who spoke at different times, unanimously agreed that investigations is germane in generating news items even as they called for collaboration and cooperation among media men and image makers makers of security agencies for a healthy nation.
The security agencies represented at the event include, the Nigeria Police Force, Nigerian Army, Federal Roads Safety Corps, Nigerian Security and Civil Defence Corps, private security operator, among others.
While speaking, Major Augustine Bello, Assistant Director, Army Public Relations of the 9th Brigade, Ikeja challenged the practitioners who are mostly online publishers to be proactive in positive journalism saying most journalists, often pick areas that do not promote national security which he said could have negative impact on the nation.
He maintained that there is need to always investigate news items before publishing them.
"The image of the country is very important so, we should portray the country in a very good light. We should be professional and detailed in our news reports.
"Unprofessional journalists are now more than professional ones. You should be able to justify whatever news item you are pushing out," he stated.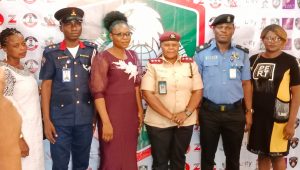 Also speaking, Route Commander, Olabisi Sonusi, Sector Public Education Officer, FRSC, Lagos State Command, added that journalists should always verify their stories before pushing them out.
The experienced officer narrated how she had been able to keep a good relationship with the media even as she also harped on investigation as the bedrock of good journalism.
Seun Abolurin, Public Relations Officer, NSCDC, Lagos State Command admitted that if security agencies'image makers are proactive, there wont be reasons for media to portray the agencies in bad light.
He however stated that security reporting has a lot of dynamics hence the need for journalists to upgrade themselves to meet up with realities of modern journalism.
He said that objectivity was very important in security reporting and that national interest should supercede personal interest even as he said that journalists should not go for glamour and glory but objectivity.
Matthew Ibadin, a security expert said national security must come first in news reports as a way of protecting the country.
"National security must come first in every report. We must target this type of report to protect the country.
I plead with journalist to see how we can promote the image of this country. Do you think crimes are not committed in other countries?
He advised that crimes against national security should be reported to the security agents and not to the public
Citing USA as an example, he said she took her national security first.
"We must take our national security first because we don't have any other country," he admonished
"Criticism is good bit it must be constructive to make to attract the attention of the government in order to make things better.
"We all have stakes in running Nigeria. It is about doing the right thing. Journalists have vital roles to play to move to the next level. We must not allow this country to fail.
"Most industries have closed down and occupied by churches because there is no light. These are the areas the journalists should beam searchlight to change the narrative even in the education sector."