Uncategorized
Queen Beauty Arigo celebrates golden age.
Queen Beauty Arigo celebrates golden age.
Last Sunday, 9th April, 2023 would forever remain indelible in the minds of Lagos based Ndokwa indigenes as their daughter, Queen Beauty Arigo celebrated her 50th birthday.
The grand reception held at Christ Followers Mission auditorium, Aiyetoro, Lagos was attended by industrious sons and daughters of Ndokwa, Delta State who over the years, have carved a niche for themselves in their chosen fields.
During the event, Mrs. Arigo sang and gave words of advice to her guests.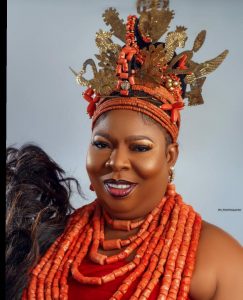 According to her, "Celebrating my birthday in the presence of God is the best thing that can make me happy".
Beauty, the queen of Ndokwa, was said to have lost her husband eighteen years ago but was highly favoured by God and she achieved great success through dint of hard work and sound vision.
The high point of the celebration was the cutting of the birthday cake and photograph session with the celebrants