National
PHOTO NEWS: Sambo at press briefing on release of Kaduna train captives 
PHOTO NEWS: Sambo at press briefing on release of Kaduna train captives 
The Honourable Minister of Transportation Mu'azu Jaji Sambo at the Federal Ministry of Transportation Headquarters Complex where he briefed the Press on the release of the remaining 23 victims of the March 28, 2022 Abuja – Kaduna Train Attack.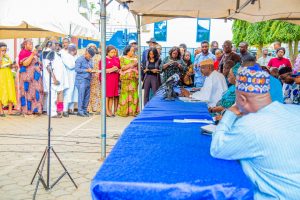 He had in his capacity as the Minister of Transportation, having just resumed duty met and and addressed the relatives of the kidnap victims when he asked them to cooperate with security operatives whenever the need arose and assured them that they would be reunited with their loved ones as it remained the paramount objective of the President Muhammadu Buhari's Administration.
He is overjoyed today, staying true to his  promise, they are reunited with their loved ones, hale and hearty. God takes the glory!