Maritime
Igbo group chieftains disagree over perpetuation of selves in power 
Igbo group chieftains disagree over perpetuation of selves in power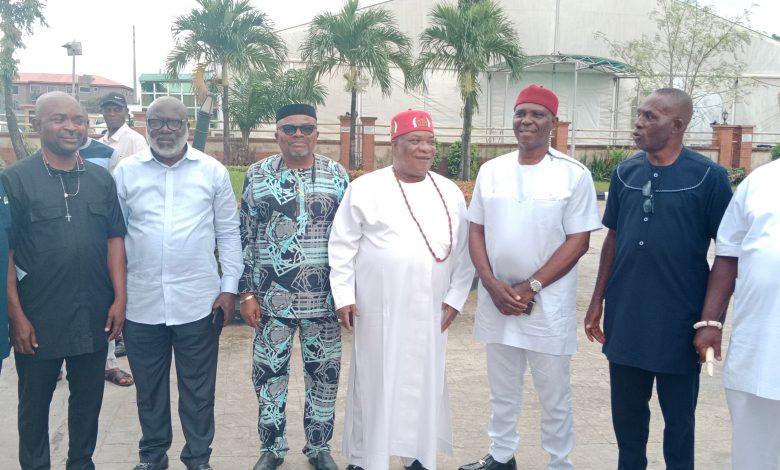 Osita knocks ASIMPIN leaders of refusal to conduct election after 14 years in power
"He has no right to complain, he is not financial, active member – ASIMPIN tells Osita
A chieftain of the Igbo Elders Council, Sir Osita Chukwu Patrick has started he had started gathering signatures of Igbos in Maritime sector in Lagos to resuscitate the abandoned Igbo Maritime Forum (IMF)
He added that the move is to end the era of the leaders of the group which has metamorphosed into Association of Igbo Maritime Practitioners (ASIMPIN) from perpetuating themselves in office
 But in a response, the leaders of the Igbo socio-cultural group has dismissed the accusation of self perpetuation in power
The members also described the accuser of not being a financial member of h.the group since inception.
Sir Patrick who doubles as the National Coordinator of Save Nigeria Freight Forwarders Importers Exporters Coalition (SNIFFIEC) had in a chat with newsmen states that he had started collating signatures of Igbos who are in maritime practice to form a parallel body.
He accused the President General of ASIMPIN, Eze Damien Obianigwe of being in office for fourteen years without plans to conduct elections for new executives even as he said the PG kept giving excuses why election is not yet held.
Osita said, "It has been fourteen years now that we all came together that we want somebody to lead Igbos in Lagos but fortunately, one of us was selected who is Dr. Obianigwe who is the Managing Director of Fano Shipping and Fano Bonded terminal
"As the case may be, prior to leadership, I started championing it believing that something concrete will be out. After six months, things started falling apart and after one year, we were not hearing anything again
"No meeting, no rendering of account, no training, the only thing we were hearing is that some gave amounts of money. That was the only thing we were hearing. We don't know how much the chapters got up till now u
"It got to a stage when it was going to three years, I alerted them at that time that our tenure was two years that they should not add nor subtract from it so as not to infringe on the laws
"Fano was not the first President General of Igbo maritime, three persons had held the position before him and when their tenures elapsed, they handed over and appointed a caretaker or interim government to manage and conduct elections for the group.
"I have written President General of Igbo worldwide, I have confronted Fano several times, I have written letters but he failed to honour them
"Igbo elders council which I am a member, visited Fano but he declined only after sometimes, he will say they should give him time, and that they should give him time with his cabinet to do this or that.
"Nothing is working with all Igbos in Lagos and even in the maritime sector, nobody knows what is happening.
"You have finished one tenure, you never called for elections, no account was rendered of your stewardship, no general meeting since then till now, it is going to fourteen years now. What can of leader can you describe this person to be
"He is my good friend but if a good friend is unable to put our house in order, he is no more a good friend until that house is put in order", Osita Chukwu Patrick stressed.
Reacting, ASIMPIN executives stated that Osita had no moral ground to call for removal of the President General, saying he is not a financial member of the association.
They also alleged that Osita is the most benefitted member of the association despite being an inactive member of ASIMPIN even as they wondered reason for his agitation.
Chairman, ASIMPIN, Board of Trustees, Dr. Peter Obih noted that the constitution of the Federal Republic of Nigeria gives room for freedom of association but explained the covid-19 was responsible for inability of the group to hold meeting since it's outbreak in 2020
He maintained that Osita is an inactive member of the group saying that his move of collating signatures of prospective Igbo Maritime Forum members is immaterial.
Also speaking, Deputy President General of ASIMPIN, Chief Ozor Chukwura attributed delay in holding a meeting to COVID-19 pandemic
He also quipped that Osita was not a financial member and that he destroyed the Apapa chapter of the association.
He said Osita Chukwu had no justification to call for the resignation of the executives of ASIMPIN adding that he is not an active member of the association.
Chukwurah who is also a board member of the Association of Nigerian Licensed Customs Agents expressed hope in the future of ASIMPIN having been able to hold the first meeting after COVID-19 effect.