Maritime
Ownership change: Union meets management of TICT, .insists on communique.
Ownership change: Union meets management of TICT, .insists on communique.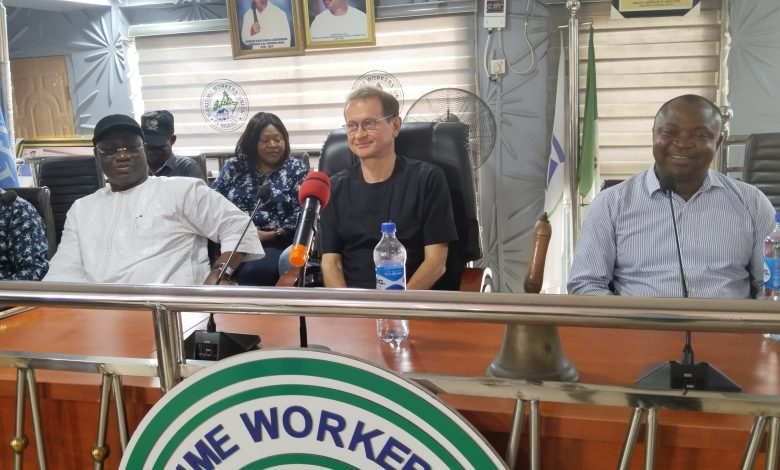 The leadership.of the Maritime Workers' Union of Nigeria (MWUN) on Monday met with the management of Tincan Island Container Terminal (TICT) over the take over of the terminal by MSC
The union leaders insisted on a communique signed by both parties to serve as evidence of claim by the terminal management that the terms and conditions of service of workers with former owners subsists
Speaking with journalists after the meeting, the President General of MWUN, Comrade Adewale Adeyanju said that the two parties have resolved to draft a communique that will serve as a manual of reference in future.
Recall that workers at the terminal who are members of MWUN had said that they preferred to be paid off by the management of the terminal for fear of being laid off without their terminal benefits.
Speaking on latest development, Comrade Adeyanju said that the concerned parties have resolved to put up a communique to avoid disputes in future.
His words, "There is no concrete evidence to tell you now because we are about to sign a communique between the union and the management so that it will not cause problem between workers and management
"There was apprehension among the workers were when the name changed overnight and the workers said they were not carried along so we felt there is need for us to have a townhome meeting so that we can sensitise workers on out own side and let the management have a tripartite meeting with the union, workers and management
"The question we are asking is who are the buyers because we don't know who the buyers are
"It is not only MSC we are talking about here, there are some bodies behind the MSC which I think they have told us their names and the union without wasting time, has written to MSC, France so that we will be able to know what they have for the workers because anything can happen after change of name
"It could lead to them changing their management Ang from management change, it is going to affect the workers'.
"It is MSC that bought the entire TICT but the Managing Director of TICT and Managing Director of Bollore are still the ones acting on behalf of MSC
"We wrote to MSC and somebody from MSC Nigeria replied us but we said no we want the parent body in France and we are still expecting their reply
"I don't think any worker will lose their job, that is why we invited the management to come and tell us what they have and they have assured the workers that nobody will lose his job.
"The CBA and right of obligation, condition of service with the workers in the two organisations still remain and that is going to form part of our communique with them so that we can have they with us and whoever goes against the communique, the union can react.
"We have not sent the communique out because it is yet to be drafted, they will send their own and we will.prepare out own but as it is now, they have given us Tuesday and Wednesday to prepare their own draft," he submitted.