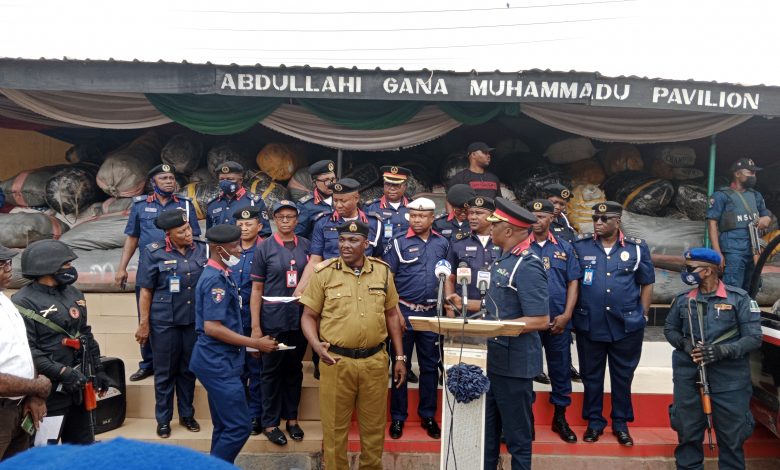 Nine Ghanaians including a 52 year old father of ten, Moses Sotee were arrested by officers and men of the marine unit of the Lagos Command of the Nigeria Security and Civil Defence Corps (NSCDC) for smuggling 201sacks of cannabis sativa into Nigeria.
Parading the suspects, the Commandant of the Lagos command of NSCDC, Okoro Eweka said that the interception was made possible through intelligence after monitoring the suspects for two weeks.
He said that the officers have been trailing the smugglers who were travelling through the sea for two weeks without their knowledge until they were eventually nabbed on Sunday morning.
According to him, the street worth of the cannabis is over N200 million.
Among those also paraded are six Beninoise who were arrested while trying to smuggle petroleum products to Benin Republic
He added that three Nigerians were also arrested in a separate operation while vandalising cables exposed as a result of construction works.
Eweka said, "Lagos State Command will be handing over both and One (201) bags of suspected Cannabis with street value worth is over =N=200,000, 000-naira as investigation is on-going for possible prosecution. ,
In a similar vein, Six (6) unscrupulous Beninoise who attempted to smuggle l02 pieces of 25Olitres Capacity drum of suspected PMS from Nigeria to Republi – of Benin were equally apprehended by the Corps late last December, they have been investigated and their case had already been charged to court, awaiting arraignment by NSCDC Lagos State Command.
Equally worrisome is the desperate acts of vandalizing cables mostly armored ones that are exposed due to construction works in Lagos State.
On this, three (3) young youthful gentlemen were equally arrested in which they will soon face the music in the Law court.
Speaking further, the Commandant commended the Commandant General for the support given to the command to carry out its operations successfully.