Sport
Maritime Cup: NAGAFF crashes out at group stage, blames poor officiating for early exit.
Maritime Cup: NAGAFF crashes out at group stage, blames poor officiating for early exit.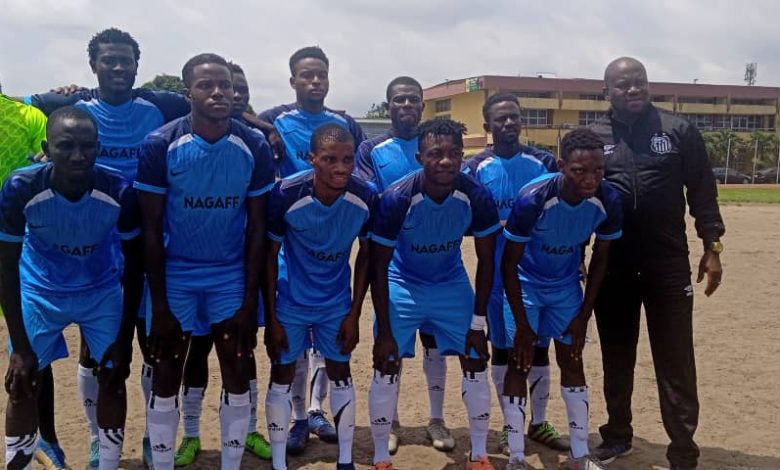 The National Association Of Government Approved Freight Forwarders – NAGAFF football team have failed to move beyond group stage at the on going maritime football competition 2022.
The team crashed out from the competition after losing its last group match by 4 goals to 2 against NPA team at the Union bank play ground located at Bode Thomas on Monday, 24/10/22.
The NAGAFF team made every spirited effort to go beyond group stage in the competition but were allegedly demoralized by the poor officiating of the match by the centre referee.
In the early minutes of the first half, the centre referee awarded a penalty against NAGAFF after sending off their central defender against a very doubtful judgement/decision.
The resultant kick gave the NPA team one goal ahead. NAGAFF then played out the first half with 10 men.
On resumption of play after the first half break, the NAGAFF team equalised with a perfect header from a corner kick. About 65th minute in the second half, an NPA player displayed a very rough play that also got him red carded by the centre referee.
With 10 men on each side, the NPA team went ahead with another goal. Determined to make the day, the youthful NAGAFF team mounted pressure on their opponents and this resulted in the equaliser and the game levelled at 2/2.
What may be attributed to favour from the god of football saw the NPA team score 2 quick goals towards the last minute of the game and thus gave NPA the opportunity of advancing to the knockout stage.
Aside of the NAGAFF coaching crew, other notable members who watched the last group game included Eze-elect Dr Onunji, the NAGAFF Tincan chapter Chairman Chief Paul Chiedozie- aka BIGI, his vice, Comrade Ifeanyi Emoh, Secretary, Chief IYK Anadi, Comrade Emeka Nwankwo- Pilot 1 , Inteligence officer, Mr Peter Nwagbara, Welfare Officer, Deborah Ihedi, Lady Ogechi, Mr Ralph of the dissolved Compliance Team, Yours Truly, Nwokoma Enyioha Nnanyi AGIM among others.