Business
LASG acquires land in Epe for food production; compensates 9 traditional land owners with N37.5 million.
LASG acquires land in Epe for food production; compensates 9 traditional land owners with N37.5 million.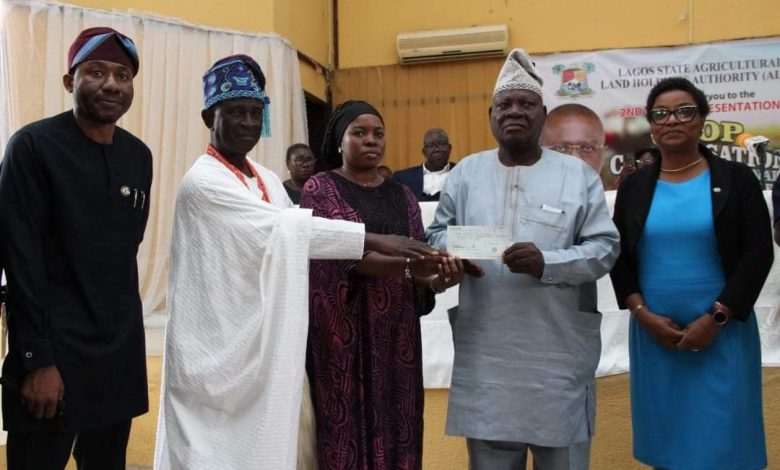 The Lagos State Ministry of Agriculture has presented N37.5 million as compensation to traditional landowners in Igbodu Village, Epe, at a ceremony held within the Johnson Agiri Agricultural Complex, Oko Oba, Agege.
In her address at the presentation programme organised by the Lagos State Agricultural Land Holdings Authority (ALHA), the Commissioner for Agriculture, Ms. Abisola Olusanya, said that the acquisition of land by the State Government is for the creation of jobs in the community and environs.
According to the Commissioner, the acquisition will ensure that Lagos State becomes a food production hub, a catalyst and a purveyor of a modern agricultural system with a dynamic structure that promotes favourable farming to reduce poverty among residents in line with the Y2030 Sustainable Development Goals (SDGs).
Olusanya averred that the facilitation of the laudable scheme would also help in preventing encroachment by land speculators and increase the morale of farmers leading to a boost in food production.
Emphasising that the compensation programme would bring synergy between traditional land owners, the Commissioner gave an assurance that the State Government would create peaceful co-existence in the community towards enhancing agriculture development.
In her address, the Permanent Secretary, Ministry of Agriculture, Mrs. Olatokunbo Emokpae, said Agricultural Land Holdings Authority (ALHA) is saddled with the responsibility of managing and administering land designated for agriculture in the State.
She stated that ALHA's officers have painstakingly worked to identify the rightful owners of the land and properly enumerated the crops on the land to ensure that all stakeholders are fairly compensated.
"This event is a demonstration of the goodwill and commitment of the present administration under the leadership of Mr. Babajide Olusola Sanwo-Olu towards ensuring good governance and equity among her citizens", Mrs. Emokpae stated.
Also speaking, the General Manager, Lagos State Agriculture Land Holdings Authority, Mr. Oladapo Are, said that the State Government has, in two years, paid land owners over N70 million as compensation to land-owing families.