National
Civil Defence plans new strategies to curb electoral violence, insecurity.
Civil Defence plans new strategies to curb electoral violence, insecurity.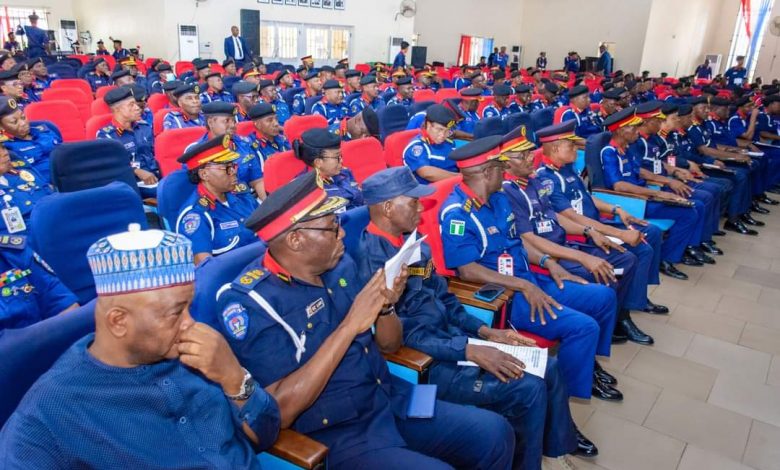 Ahead of 2023 general elections, the Nigeria Security and Civil Defence Corps (NSCDC) is set to deploy new strategies to address electoral violence and put an end to insecurity in the country.
Commandant General of the NSCDC, Dr Ahmed Abubakar Audi, said this at the quarterly CG's Conference which brought together DCGs, ACGs, 36 State Commandants and other senior officers at the Corps National Headquarters in Abuja.
DCC Olusola Odumosu, Director, Public Relations, NSCDC National Headquarters, Abuja stated in a release that according to the CG, the conference availed the management an opportunity to appraise and present before the public, its performance in the last three months of the year.
Dr Audi said, "We must begin to deploy new strategies in tackling the spate of insecurity bedeviling our land if we must effectively protect the masses, the electorates, electoral materials and the electoral umpires during the upcoming elections from any form of attack or danger in the course of their duties.
"Let me use this opportunity to commend your efforts and commitment as we continue to steadily and gradually take appropriate steps in our collective efforts to deliver on our mandate.
"We are not oblivious of the challenge ahead of us in the face of the prevailing security situation, but with our collective resolve, avowed commitment and dedication, we will surely surmount all and impact positively in fostering the much desired safe and secure environment to engender peace and socioeconomic development", Audi assured.
He reiterated that, the situation we have found ourselves as a country calls for serious and appropriate measures at this critical time in our checkered history, stressing that, a secure and resilient electoral process is of vital importance to national growth.
"Let us therefore remain resilient and absolutely committed to working collaboratively with sister security agencies and other stakeholders while we remain agile and steadfast to manage the risks thrown up by events leading to the upcoming election and be combat ready to protect the citizens of this great country and secure our Critical National Assets and Infrastructure against new and evolving threats.
"As a security agency of government, we play very critical and vital role in checkmating and prevention of violence while ensuring effective protection in all the phases leading to the general elections to consolidate our democracy and democratic process.
"We must therefore be proactive and take necessary steps toward tackling the challenges of insecurity as we embark on this all important journey towards ensuring a free, fair and credible elections.
"Let me also use this opportunity to advise and remind Nigerians that security is everybody's business. We must therefore rise up to assist security agencies with credible and actionable intelligence that could aid in checkmating and addressing the spate of insecurity in the Country. I want to assure you that every piece of information provided will be treated with utmost confidentiality. "When you see something, please say something," says the CG.
He seized the opportunity to charge officers and men of the Corps to be at their best in the forthcoming Osun election by working in collaboration with other security and law enforcement agencies to checkmate any form of threat or disturbance to the peaceful conduct of the election.
In the same vein, the CG, announced the redeployment of 16 State Commandants as part of efforts to restructure and sustain the tempo of quality service delivery to the citizenry.
States affected in the redeployment exercise include Kwara, Jigawa, Abia, Enugu, Osun, Kogi, Adamawa and Kebbi.
The rest are Bauchi, Niger, Anambra, River, Ogun, Imo, Akwa-Ibom and Yobe states.