Politics
Lagos lawmaker, Idimogu empowers over 2,000 constituents with N200m worth of POS machines 
Lagos lawmaker, Idimogu empowers over 2,000 constituents with N200m worth of POS machines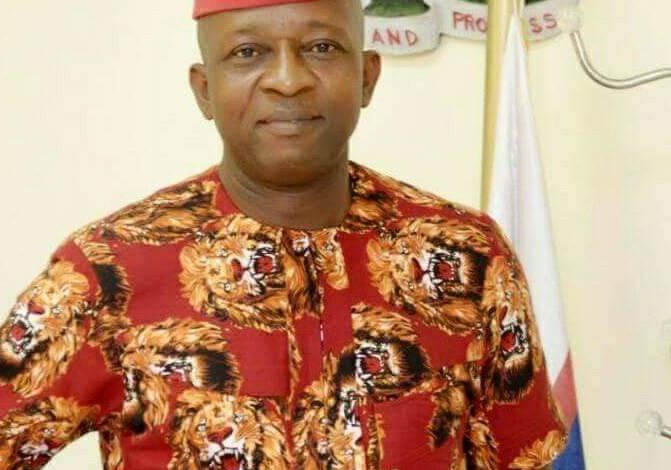 Encomiums, praises and promises of another term in office as constituents of Oshodi/Isolo II laud the empowerment programme of the lawmaker representing the Constituency in the Lagos State House of Assembly, Hon. Jude Chukwuemeka Idimogu who started the process of giving out over 2000 Point Of Sales (POS) machines to the people, last week.
The beneficiaries of the over 200 million naira project, who are mostly women and youth described the initiative as unprecedented saying he is the kind of politician the people need to assuage the sufferings on the masses in the state.
The POS free distribution which is an initiative of Idimogu and a reputable bank which name is deliberately withheld, will provide employment for several people in the constituency and beyond.
Some of the elated beneficiaries from different tribes and areas of Lagos who spoke with Journalists at the Constituency office of Hon. Idimogu, venue for the registration at Ejigbo last Friday, appreciated the feat even as they prayed for return of the honourable member to the seat in the 2023 election to enable him continue with his unprecedented people oriented Programmes.
Hon. Idimogu would be recalled, had reportedly empowered the constituents and Lagosians in several ways by purchasing commercial buses for them, instituting talent hunt for young and talented footballers in connection with Roma Football Academy of Italy, some of who have been taken to Abuja and onward to Italy for trials.
He has helped thousands to secure jobs in different ministries in Lagos.
According to testimonies of some of the hopeful beneficiaries of the POS initiative, Hon Idimogu had no rival so long as Oshodi/Isolo is concerned saying what God is using him to do is unprecedented.
The constituents have vowed that nothing will stop them from supporting Idimogu's re-election bid into the state Assembly, urging other politicians to emulate the good deeds of the lawmaker.
Testimonies of beneficiaries:
Alhaja Raliat Junaid, a resident of Ishaga, Ire Akari, Isolo, said the POS initiative will improve their livelihood and take them out of poverty.
This is a good initiative and we want him to go back for second term because he does not practice favouritism. Despite being an Igbo man, he will attend to you except you don't go and meet him.
He carries all the tribes along. We pray that this will not be his last because we are at home with all he has continued to do, we want him to continue.
On festive periods, he will share bags of rice and other food items. Despite the population of about one million in my estimation that come to his house, he makes sure everybody goes home happy.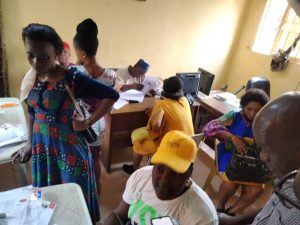 Agbaje Adebisi, a trader said, people like Hon Idimogu in leadership encourages others to grow, his vision electrifies the environment, and also grows a nation.
I pray that the Lord keep him alive to continue his good works in governance.
This project will boost the morale of people some of whom are fatherless and hungry. This opportunity to the youths in particular will reduce poverty and thuggery.
I really appreciate the staff here. No form of arrogance in them. We are ready to go with him anywhere he goes, to vote him into power.
This empowerment, I know is a continuous project. Even after this I have no doubt he will come with another bigger one.
Irene Ogochukwu,
I believe I can make a living through this project. I was into it before. Stopped when i ran out of cash. It's a good business indeed.
This will no doubt sustain people. I thank God for the gift of Idimogu to Oshodi/Isolo.
I encourage Lagosians who are looking for what to engage in to key into this vision.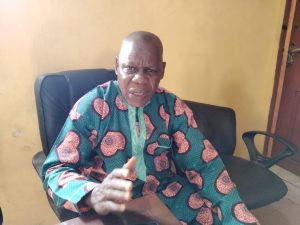 Adam Taiwo Oluwadamola,
I had wanted to acquire this POS in the past but couldn't do so for paucity of fund. This is a good idea that will help people a lot.
It's a very laudable concept by our Honourable. I have heard a lot of good things about him, let him continue on his good works.
Let him continue to be himself.
As for Nigerian politicians, those doing good should continue, those doing bad should also continue. At the right time, the masses will speak, they will align with their true leaders, no amount of money will deter them
Hon Jude should continue in his good works, the masses know those that genuinely have thier interest at heart.
We will continue to draw it to politicians on the need to take away rigging so that our votes will count.
Esther Solomon, an Ejigbo resident,
I heard they were giving POS, so I decided to come and benefit from the sharing because the machine is expensive, I can't afford it but I love the business.
I am short of words for this vision of this Honourable'. I don't need to be told he is indeed a good man. I did not known him before. I thought it's a group that is behind this, I never knew it's an individual, Hon Idimogu. May God bless him.
I will always vote for him, he is the right person to vote for. I will vote for him and his party very many times.
The country presently is upside down. He is the type of person we believe can rescue the poor masses from the grip of greedy and selfish politicians everywhere. I will convince others to vote for him also.
Kole Akintumi, Coordinator, National Youth Council of Nigeria(NYCN), Ejigbo branch, an All Progressives Congress(APC) member.
This is a good development, am here to facilitate and encourage the youths to partake and gain this empowerment.
No doubt, our youths that are focused and ingenuous will benefit greatly.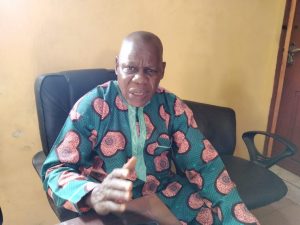 This will offer them another stream of income.
Many of them who ordinarily would not have what it takes to approach the banks for this, Hon Jude has brought it to them at their doorsteps and on a platter of gold, this is commendable.
It's a good initiative for the community.
Am happy and believe in this project, that is why am here. It's coming from our representative.
Hon Jude who is one of our representatives.
I call on our representatives to come up with good initiatives that will better the lot of our people, reduce poverty when that is achieved, APC will be happy they did.
We are asking for more slots from Hon. Jude because we are experiencing high turn out of our youths to this project. When they're engaged, it will go a long way to keep them busy and keep them away from crime. This project is wonderful, the community needs more.
Uchenna Mbara,
I am here for the POS empowerment initiated by our Honourable, Jude Omobowale Idimogu who is a man of the people.
We are happy for this project as first of its kind, it has never happened before.
You can make your verifications. This project is a landmark in the history of empowerment by a politician around us here.
He has set a standard very difficult for any other here to surmount. He is indeed a detribalised Nigerian.
I urge other politicians to emulate his footsteps. Affecting lives positively is what we want, not making mouths, this is practical. The people can feel it.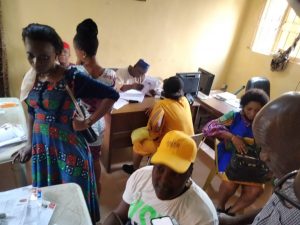 All of us here are testimonies of his good works. Proving to people that politics is selflessness.
Idimogu has many empowerment programmes to his credit, not limited also to commercial buses to youths, tricycles and cars, also food items for people at festive periods as Sallah, Easter, Christmas, etc.
He gives without looking at where you are coming from. He shares to the masses direct not through proxies that will keep for themselves and cronies.
He carries everyone along irrespective of party, age or race.
He does his things in the open. This empowerment is a testimony to that.
As for the upcoming election, he has won even before the voting starts, am too sure of that, he is man of the people.
We feel him, he feels us, morning, afternoon, he is there. He doesn't run away from the people. Unlike other politicians that live outside here. Any day, anytime you knock at his door, he is there.
Run to him, tell him your problems, he will listen and solve them there and then.
It's not easy, but he is trying his best. We still need him here to set more examples before we move him to Abuja to go and teach them what it means to give quality representation.
He deserves to be in Abuja. If he could do all these here, we are optimistic he will do more when sent to Abuja where he will recieve Constituency allowance.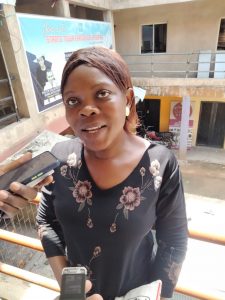 Pastor Matthew Sunday Ojo,
Personal Assistant, Constituency Affairs Officer to Hon Jude Omobowale Idimogu,
This is going to be a landmark empowerment programme to about 2,000 residents of Oshodi/Isolo Constituency and beyond.
We felt we should try as much as we can to empower our people, once more. We know the suffering in the land.
My Oga, Hon Idimogu partnered with a well known reputable Nigerain bank to facilitate this  poverty alleviation programme to alleviate the suffering of the masses especially residents of this constituency
This project started about two weeks ago, we are rounding it off next week.
We are targeting the first two thousand. After that, the other applications will be positioned for the next stage.
We have registered close to 2,000. As at yesterday(Thursday), we had registered over 1,500. As at today, we have registered up to 500 people.You can see the crowd here, look at the bulk of papers on the table.
Looking at the realities on ground today, he thinks the only thing he could do is to bring more empowerment for his people.
To teach them how to fish like the Bible said, to enable them have daily income through this POS that will be loaded with over N120,000 each.
This is not just for election as far as Hon Idimogu is concerned. Even before now, we have stomach infrastructure programme. We have influenced employment for our constituents into LASTMA, state Civil Service, Neighbourhood Watch, Lagos State Employment trust fund, we have facilitated repair of roads in our area.
If you look at our track record, you will see this is not the first time we do things like this. Not long ago, he embarked on football talent hunt for the youths. All his thoughts are more for the youths.
I can assurance you that this about N200million empowerment project will come through in less than three weeks from now.
We are going to embark on this openly. The bank will be there to teach them how to use it and the press will also be there to witness it.
This is the first of its kind in this Oshodi/Isolo Constituency if not lagos.
You can see,l market women, youths and their leaders, Kabiyesi's honourables, have all visited here and participated.
I know as election approaches, our records will speak for us. We ask the people to give him a chance to continue his untiring services to them. He is our In-law, and by extension our biological son, he is part and parcel of us. he needs our support to return to the house to finish what he has started.