Politics
Lagos 2023: lgbos pledge support for Sanwo-Olu, Hamzat.
Lagos 2023: lgbos pledge support for Sanwo-Olu, Hamzat.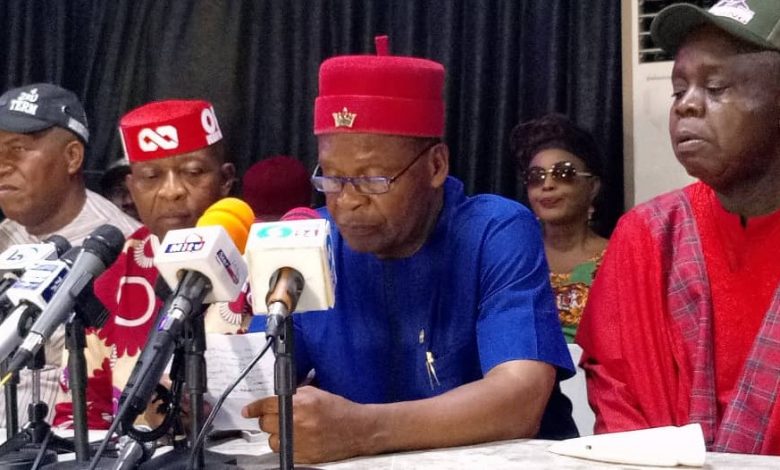 …lgbokwe, ldimogu call for Calm. women leaders Canvass for more votes.
By Emmanuel lkpeama
Following the announcement by the Independent National Electoral Commission (INEC) declaring Bola Ahmed Tinubu of the ruling All Progressives Congress (APC) the winner of the February 25, presidential election, where he polled a total votes of 8,794,726 to defeat his closest rival Atiku Abubakar of the People Democratic Party (PDP) who scored 6,984,520, the Apex Leader of Ndigbo in the All Progressives Congress (APC) in Lagos State, Mr. Joe Igbokwe, has pledged the unalloyed support of Igbos in the state to vote enmass for Governor Babajide Sanwo-Olu and other APC candidates in the forthcoming governorship and House of Assembly elections.
Honourable lgbokwe who made the submission during a World Press Conference in Lagos stated that the lgbos who are known to be committed to the growth and development of Lagos State has agreed to come out enmass to cast their votes for Governor Babajide Sanwo-Olu and other APC Candidates in the forthcoming governorship and House of Assembly elections.
The Apex leader who is also the Special Adviser to Lagos State Governor on Drainages, appealed to lgbos in the state not to allow tribalism and religion to rub them of some privileges they have been receiving as non-indigenes in the state.
lgbokwe who was accompanied by his deputy, Hon. Jude Chukwuemeka Idimogu opined that the Igbo needed to vote Governor Sanwo-Olu and his deputy Hamzat in the coming poll to give home-basef supports for the president- elect, Asiwaju Tinubu.
He also appealed to the Igbos not to allow a repeat of the outcome of the Presidential and National Assembly elections held last Saturday where the APC lost in that election to the opposition Labour Party (LP), so that they would continue to have a say in the state.
His words, "We need to support the president- elect to make him have a political base in Lagos State, in March 11, you need to go out enmass to vote all APC candidates,so that the president elect can have strong home support base,
"He fought for the rights of Igbo, we have to pay him back for the support he has given to us, life is give and take. Give him the home support. If you have invested in Lagos, it is too humongous to play with. Where you live is your home.
"You need to start making friends and build bridges, we cannot make it alone," lgbokwe stated.
Speaking further, the Agbaranaze of Nnewi congratulated the president-elect for a resounding victory at the just concluded poll, while saluting the courage of Alhaji Atiku Abubakar and Mr. Peter Obi for the peaceful conduct of the election, urging them to join hands together with the president elect so as to move the nation forward.
He assured the Igbos that no threat against them would work as, according to him, the matter was being dealt with by Governor Sanwo-Olu, asking them to remain calm and go about their businesses.
Lending his voice, the Member, Lagos State House of Assembly representing Oshodi Isolo State Constituency 2 and also Deputy Apex leader, Hon Jude Chukwuemeka Omobowale Idimogu felicitated with the president-elect who he described as a trailblazer, a builder of lives.
According to him, "Tinubu 's victory will not only benefit our motherland Nigeria, but it will also at the same time be a morale boosters for Africa.
"Tinubu's decade-long fight for the restoration of democracy in the country is well understood by Nigerians. Hence we see the wisdom in entrusting our future to him.
"I want to appeal to my lgbo brothers and sisters to come out enmass as we have done today and in the last election to vote for continuity, let us not vote on sentiment as I am aware that the governorship candidates of other political parties, including the main opposition Peoples Democratic Party (PDP) and Labour Party (LP) had been making overtures to them to secure their votes, and even trying to convince them that their parents were of Igbo extraction.
"l urge you to ignore their overtures and vote for continuity, vote for Babajide Sanwo-Olu, vote for more infrastructures as represented by the ruling APC" he submitted.
The two term lawmaker, also called for calm and asked that Igbos ignore the fake news making the rounds that Igbos are being threatened and their properties destroyed, stressing that there is nothing of such as the peace loving governor has promised the non indigenes of their safety.
The State Woman leader of Ndigbo in APC Lagos State, Barrister Princess Obiageli urged all the women, youths and lovers of true democracy to come out enmass and cast their votes for all APC Candidates especially the Governor whose track record is unquantifiable.
The legal luminary stated that Governor Sanwo-Olu has done tremendously well that requires him to be re-elected for second term in office.
"There is no doubt in it, Sanwo-Olu has done well both in infrastructures, health, education, welfare and otherwise, so electing him, would be a continuity of his remaining projects. This man is a saleable product, and for this reason, I want to tell you categorically clear that we the women have deemed it fit to canvas by going for door to door campaign in letting people to know what Governor Sanwo-Olu has done and what he will do if re elected."
Barrister Obiageli congratulated Bola Ahmed Tinubu, stating that with his emergence, it is certain that the renewed hope will be actualized and Nigeria would move to its greater heights.
Also speaking, the Federal Commissioner, Public Complaint Commission representing Anambra State, Lolo Emelda Nwajiofor Okoli, stressed the need of Igbos coming together and speaking with one voice not minding the distractions.
She stated that Ndigbo in APC Lagos State are united and has come to tell the world and the party that they can never be distracted as they have vowed to come out enmass and vote for Babajide Sanwo-Olu and every other APC Candidates in Lagos State.
The Honourable Commissioner assures the full support of the men,women, youths of Ndigbo in APC in casting their votes and giving him 100% vote come March 11.
"We are not perturbed with the results of the last election in Lagos State as the people told us that they are going to vote for our brother in Labour Party for president but every other vote as far as March 11 is concerned it is for APC.
"Notwithstanding we are not going to relent, rather we will canvas, solicit for votes for Governor Sanwo-Olu because he has done well and deserve the second term. The lgbos have benefited a lot from his administration, now it is pay back time and we will do so with our votes by voting him massively." She submitted.
Hon.Grace Okere, Councilor representing Ifoshi ward in Ejigbo Local Development Council Area, congratulated the President-elect, Senator Ahmed Tinubu, stating that his genuine investment in human, natural development and National integration played some critical roles in endearing him to all sections of the country.
She went further to state that his experience in transforming lives and also Lagos State, he would no doubt be used as a yardstick for the restoration and transformation of renewed hope of Nigeria.