Politics
Imo: Ex-Deputy state speaker gets royal blessing for 2023 Federal House of Reps ambition.
Imo: Ex-Deputy state speaker gets royal blessing for 2023 Federal House of Reps ambition.
A former Deputy Speaker, Imo State House of Assembly, Rt Hon. Jonas Okeke has received royal blessings for his 2023 House of Representatives ambition.
He received the blessing during his consultation to  members of Ihitte Uboma Council of Traditional Rulers to represent people of Ehime Mbano/Ihitte Uboma & Obowo in the Federal House of Representatives constituency.
Okeke who addressed the royal fathers, said it was important that he consulted them upon his emergence as the Peoples Democratic Party (PDP's) candidate in the forthcoming Federal House election as a mark of his respect for them.
He reiterated that his decision to join the race again was propelled by his burning desire to bring about strategic, quality representation and return of deserving dividends of representation to the people he has offered himself to serve.
"Okigwe South needs a leader who is not self-seeking. Someone with experience, capacity and technical-know-how to do the job of a legislator. For this, I have once again presented myself to be used by God and the people to carry out this assignment" the federal lawmaker hopeful, explained.
Responding on behalf of the Royal Fathers, the Chairman Ihitte-Uboma Council of Traditional Rulers, His Royal Highness Eze Jude C. Uwalaka, said they were proud of Hon. Okeke and his accomplishments, and went further to describe him as a worthy son, a man whose time has come.
Eze Uwalaka noted that it was the turn of Ihitte-Uboma to go to the Federal House and therefore gave the aspirant the blessings and support of the traditional institution. He also prayed for success on his aspiration to become the next Okigwe South federal lawmaker in 2023.
They expressed gladness on the bold step he had taken to aspire for the number one seat in the federal constituency.
Reacting to the development, the Director General, Hon Jonas Okeke's campaign Organizaion, Cornel Udumaga, said the traditional rulers as custodians of the people have said it all, they wear the shoe, and knows where it pinches.
He justified that the Constituency at the present, needs a man like Uncle Joe with a stronger voice to speak for them, and offer purposeful leadership and representation.
Udumaga assured electorates in the constituency that the party at the federal, states and local levels are more resolved than ever to protect their votes against rigging or electoral fraud.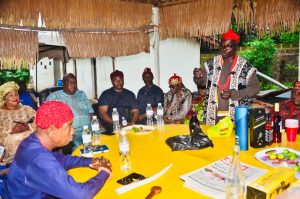 "I assure the people of Okigwe South that Jonas has been winning and will win again. The era of ballot snatching is over, era of using inclusive elections to rig out a winning candidate will be checkmated.
"We have learnt our lessons. We will never allow them any foothold to play out their mischief, we will never tolerate those shenanigan of the past.
"I implore our people to strive as hard as they could to get thier PVCs and revalidate their cards as directed by the Independent National Electoral Commission (INEC).
"Together we shall send that man who has the nitty-gritty of law making in his finger tips, who has the connection and that nationalistic posture(Uncle Joe) to Abuja only to speak loud and boldly for our people, this is the time," Udumaga said.