Politics
Fuel Subsidy: Odunmbaku urges Nigerians to support President Tinubu
Fuel Subsidy: Odunmbaku urges Nigerians to support President Tinubu
…as Asiwaju Interest Group bestows him with award.
A foremost stalwart of the All Progressive Congress and member of the Lagos State Governor's Advisory Council, Cardinal James Omolaja Odunmbaku has called on Nigerians to rally support, prayers for the new administration and remain united in the face of the socio-economic challenges facing the country.
The revered preacher stated this in a thanksgiving service for president Bola Ahmed Tinubu held at the City of Glory Celestial Church of Christ, Ojodu, Lagos.
He added that Nigerian oil marketers have been siphoning the economic resources of the country for years and for the country to overcome these challenges, the country needs a drastic measures put in place as the president has done, which only requires patience and sacrifice.
"I want to appeal to all of us to be with the present administration, the government needs our prayers and support. I am assuring you that by the time the government begins to save money from the fuel subsidy and use it to revive our education, health facilities and other infrastructure, Nigeria would be great again. With Bola Ahmed Tinubu, Nigerians would witness a new dawn and their will be a rapid progress in the country" he stated.
In the same vein, the leadership of Asiwaju Interest Group bestowed award on him as the grand patron, based on his pedigree and interest in the development of the country.
The convener, Hon Kalejaiye Banjoko noted that the Cardinal who is a thoroughbred democrat is known for his tenacious defense of democracy and equally known to have combined his calling as a cleric with partisan politics.
Hon Banjoko went further to describe the Cardinal as a consumate politician and unrivalled grassroots mobilizer, who without doubt is a highly gifted cleric.
" Cardinal Odunmbaku deserves this award bestowed upon him today because he is a man who has been going about preaching the gospel of Christ with a deep sense of humility and responsibility,he is a passionate philanthropist who has extended his helping hands to a good number of Nigerians, little wonder he was giving a national award by the former president."
He opined that the essence of the award was to appreciate his efforts in human capital development and political sagacity in Lagos State and Nigeria as a whole, stating that the cleric have impacted so much in people's life.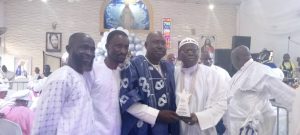 The State coordinator of the group, Mr Temitayo lge stressed that the Cardinal have been building lives and impacting knowledge spiritually, politically and otherwise as he has distinguished himself among his peers,and also ensure in the victory of President Bola Ahmed.