Entertainment
David Ross, Takwa Bay community support FTAN World Tourism Day Celebration
David Ross, Takwa Bay community support FTAN World Tourism Day Celebration
David Ross, American beach promoter and president, Takwa Bay tent makers association, has assured full mobilization of all Takwa Bay water front operators to ensure a memorable celebration of the Federation of Tourism Associations of Nigeria (FTAN) powered World Tourism Day on September 27, 2022.
Ross who is a resident of the foremost Island Beach resort, promised to throw the gates to the fees collecting waterfront open for free, provide additional ten high powered boats to the watercraft Armanda put together for a water road show for the event, podium for the lead speaker on Rethinking Tourism, theme for public conversation and free tents, games and jet skiing recreation.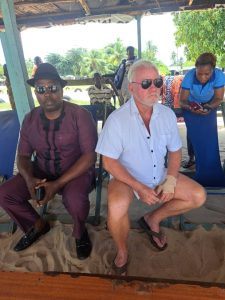 Excited to receive FTAN planning committee chairman, Dr Gani Tarzan Balogun, who grew up in the Island and Tobi Ogunleye, whom David Ross described as the "money man," the American, from Texas who has spent greater part of his life in Nigeria,  praised the initiative of FTAN committee for choosing the famous island for the open activities to mark the event, adding that Takwa Bay still remain the pride of beach recreation opportunities in Lagos.
"We are pleased to welcome you here and will deploy all our resources to host those who will be coming.
You can see clearly the the beach is very clean and waterfront so organised to give maximum comfort and  protection to anyone interested to see this place " Mr Ross added.
Introducing the chairman, Fund Raising Committee,  Mr Tobi Ogunleye and other members to Ross and his group,  Dr Gani Tarzan Balogun disclosed that about fifty boats will ferry Nigerians free from his jetty in Victoria Island, in a colourful watercraft public parade on Lagos lagoon to Takwa Bay,  and a live band in tow, and not excluding special jet ski displays, never seen any where in the country.
"We want to Rethink tourism by showcasing the power of water recreation, and the down stream value chain, and opportunities for job creation and investment profiles." DR Balogun popularly known as the Boatman  explained
He noted and added that one of Nigeria's icon in cultural tourism and Resort investor, chief Wanle Akinboboye, will be on hand to share deep perspectives on tourism investment opportunities in Nigeria,  during the open conversation on the Theme of global fiesta, on September 27th,  2022.
The evening activities for the celebration, will take place at the prestigious Eko Hotel and suites.