Maritime
CILT Lagos, Next Generation task students on interest in transport, logistics. 
CILT Lagos, Next Generation task students on interest in transport, logistics. 
The leadership's of the Chartered Institute of Logistics and Transport (CILT), Lagos branch have tasked secondary school students in developing interest in transport and logistics profession in addition to whatever career path they may want to take in life.
This is as part of the programmes of the institute to educate the young scholars on gains and benefits of transportation and logistics to national development, security, trade facilitation, socio-econokic development to the nation.
Addressing over 100 senior secondary students of Festac College where the program was launched, the Chairman of Next Generation Nigeria, Mr. Jafaar Bello urged the students to develop interest in the profession because of its benefits.
While delivering lecture on the 'Benefits of the Transport Industry', Chairman of CILT, Lagos branch, Mr. Bashir Ambi Mohammed had analysed the numerous benefits of Transportation and Logistics to National Development, Security, Trade facilitation, Socio- Economic Development, to the Citizens
Mr. Mohammed also told the students about the launch of the program called 'Catch Them Young' which is meant to create the interest of the sector in the minds of the students early enough.
He however tasked the students to key into the Transport and Logistics profession in addition to whatever discipline they may want to adopt in life.
He further advised the students to take their education seriously and shun all forms of vices so that they can be referenced Transport and Logistics gurus in and outside the Country.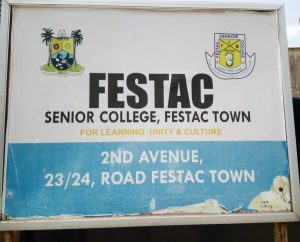 Some students rewarded with cash awards for brilliant performance during the question and answer session of the event.
There was also a nomination of CILT Ambassador at the school. Some of the students were eager to be members of the institute after the program.