Maritime
Cargo throughput: How cumbersome clearing process, corruption give Togo edge over Nigeria – MACN.
Cargo throughput: How cumbersome clearing process, corruption give Togo edge over Nigeria - MACN.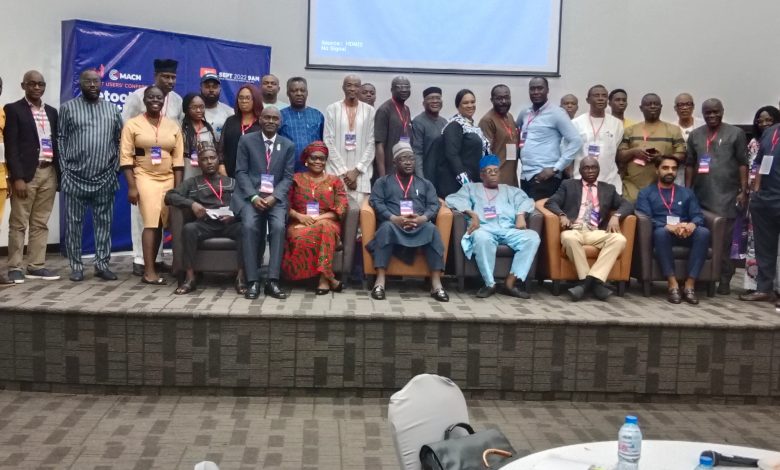 The Convention for Business Integrity (CBI) and Maritime Anti-Corruption Network (MACN) have lamented how cumbersome clearing processes, corruption is robbing Nigeria of its enormous cargo throughput to Togo and other neighbouring countries.
The groups have called on private sector players, public and civil society groups to lend their voices against the vices in order to be able to fix the problems for Nigeria to take its place as the giant of Africa's international business.
Olusoji Apampa, Co-founder, CBI in a chat with newsmen on the sideline of the annual Port Users Conference with the theme: "Retooling the Maritime Sector for Stronger Economic Growth," stated that even though Nigeria maritime sector has challenges, there are also opportunities.
He maintained that shipping business took about 90 percent of the Country's business flows but added that if the problems were not fixed, Nigeria would have nothing to show as a maritime nation.
Noting that Nigeria needs capability, he cited the instance of Nigeria having seafarers in abundance but that some of the them present fake certificates hence, they cannot be recommended for international vessels.
He called on all operators including the private sector, government agencies and civil society groups to form a synergy against the menace of corruption to get the country in the right pedestal.
His words, "It is true that we have problems in our ports and it is also true that we have great opportunities in our port sector.
"The infrastructure are not quite working and it is creating economic depression in a place like Apapa and we acknowledge that but there is great opportunities to create jobs.
"We are taking these contrasts but one thing is recurring, that is failures in integrity, regulations and failures in paying attention to the issues and we have agreed that private sector should not allow these failures to go unreported.
"We have to raise our voice, we have to identify those failures, we have to engage government government and discuss it because if we don't do it, Nigeria will fail to rebuild its economy
"Shipping records about 90 to 95 percent of the trade flows that happen in Nigeria and if we don't fix our shipping and interface in that way, we will actually have nothing
"In summary, people have said Nigeria needs capability to compete. For instance, we don't have vessels, we don't have our own infrastructure, we don't have our own seafarers and even when we have them, their capability is in doubt. People say they are presenting fake certificates and so on and so they cannot join international vessels, yet international vessels are looking for seafarers.
"How can we have an abundance and yet we are saying there is nothing? So, capability is very important.
"Second, we need collective action, if you don't deal with collective action meaning if it a business, government, civil society groups, all 5hise who want to see progress must come together because it is a systemic problem
"If you say you are appointing the government alone, it will unravel at the private sector side, if you bring only private sector, it will unravel at the civil society side. Everybody needs to come together to make that change happen.
"We also need to ensure competitiveness as a country. Togo is doing more cargo throughput than Nigeria and Togo has a population of about 8 million and we have 200 million and yet a good portion of all the trade is still coming back to Nigeria.
"It is because of our cumbersome processes, the corruption that people are trying to avoid. So, the problems cannot be fixed if we don't raise our voice that there is a problem and not only to raise our voice but raise the solutions which MACN has been doing."