Religion
CAC Calvary Cry and Miracle Ministry holds fourth convention, Alapanla, Jojolo Jesu, others billed to perform .
CAC Calvary Cry and Miracle Ministry holds fourth convention, Alapanla, Jojolo Jesu, others billed to perform .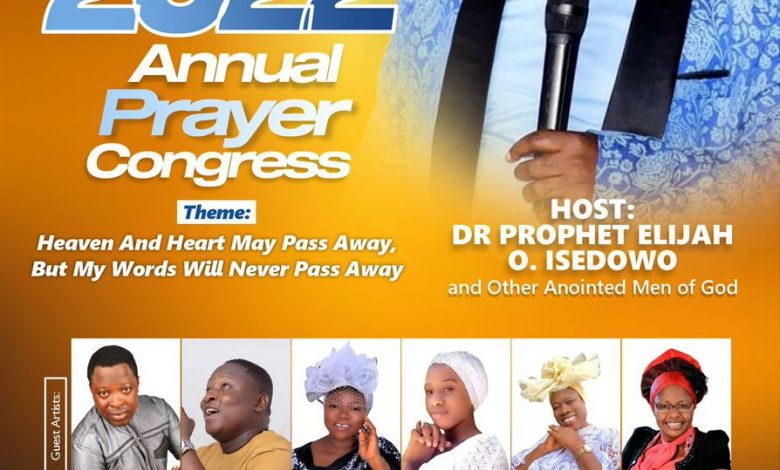 Christ Apostolic Church, Calvary Cry and Miracle Ministry located in Ikotun area of Lagos state holds her fourth annual convention on Friday, 4th November, 2022
The annual prayer meeting tagged: "Heaven and Earth Will Pass Away but my Words Will Never Pass Away," is billed to hold at No 5, Akinson Estate, Car Wash Bus Stop, Ijegun Road, Alimosho Local Government Area, Lagos.
The 2020 edition came with the theme: He will come Again while in 2021, it was tagged: Mighty and Great Things Will Be Performed This Year.
Gospel artistes expected in attendance at the meeting include; Evangelist Seyi Alapanla, Evangelist Paul Friday aka Omo Abule, Evangelist Folakemi Jojolo Jesu, Evangelist Sarah Light, Evangelist Deborah Dunmininu, Evangelist Akokomito
The church choir will be on ground as well as other talented gospel artistes that will thrill the congregation to different tunes of gospel rendition on the day.
The Prophet in charge of the Church, Prophet Oluwasegun Isedowo, popularly called the heir of Apostle Ayodele Babalola will be on ground to minister among other men of God.
Recall that previous editions of the program had produced testimonies which include; conception for the barren, financial breakthroughs, instant healings, among other miracles.
This year's edition is in commemoration of the 12th uninterrupted years of miracles that God has been using the prophet to perform in the church.
Among the spectacles that happened in the church within this period is miracle water springs in the church which has been doing lots of miracles and changing lives of people in and around the country.
A member of the church who runs football viewing centre recently had an encounter that rattled him and the entire church.
A football fan came to watch football game at his centre one night and he dropped dead on the bench while watchers thought he was sleeping.
Confused and not knowing what to do, he called his friends to help him but they couldn't and they resorted to inviting the police but the police contact numbers were not not going through that night.
He just saw the church water he had kept at the viewing centre for sometimes, he took the water and sprinkled it on the dead man, he left him in the shop and went out, still confused.
To his greatest surprise, he came back within some couple.of minutes and met the dead man sitting down on the bench. He jumped for joy because he was not implicated.
To some, the water helped to solve the problem of childlessness while to some, it gave them financial breakthrough after washing with the water.
A woman testified that fibroid melted away in her when she drank the water.
The 2002 edition is expected to be more power-packed and produce more testim