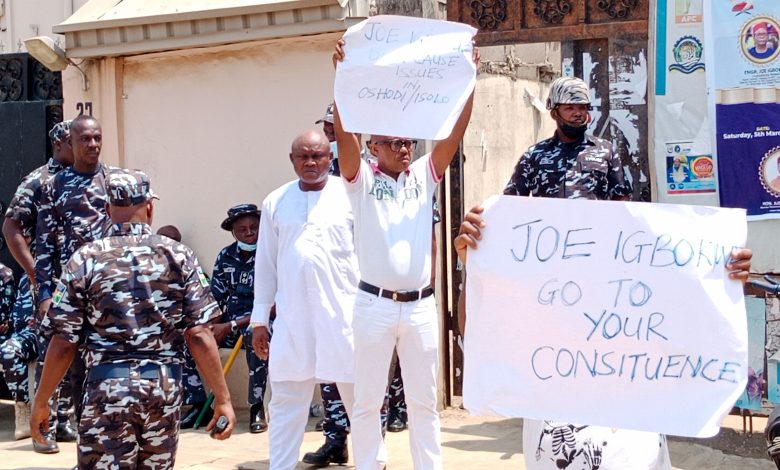 The igbos in All Progressives Congress (APC) in Oshodi/Isolo constituency II on Saturday frustrated attempt by the Joe Igbokwe faction of the party to inaugurate its executives in Ejigbo Local Council Development Area (LCDA)
The visibly angry Ejigbo party members who clamoured for harmonisation, said the inauguration would not hold because it would only take care of the interest of one out of the three factions in the LCDA
Joe Igbokwe is the Special Adviser to Lagos State Governor on Water and Drainage and one time Publicity Secretary of APC in Lagos state.
Placards carrying members of the party at the Ejigbo party secretariat on Saturday have however warned the party chieftain against causing divisions in the party saying it is only Jude Idimogu they know as their leader in the constituency.
Jude Idimogu is the member, Lagos State House of Assembly from Oshodi/Isolo constituency II.
Recall that the Joe Igbokwe faction of the party had scheduled inauguration of party executives at the Ejigbo LCDA chapter but the aggrieved members said that the arrangement would amount to domination of the Council by a faction that has no hold within the LCDA
Speaking on the development, Chief Mrs Nelly Okafor, one of the leaders of Ndigbo in APC in Lagos state fumed saying the Ndigbo members in Ejigbo have disowned the party chieftain as the apex leader because according to her, Igbokwe does not have what it takes to be a leader.
Mrs Okafor who doubles as the founder of Ndigbo in APC in Ejigbo insisted that the inauguration would not hold because the party members were not carried along in the scheme of things.
Her words, "We have disowned Joe Igbokwe as the apex leader from today because he does not have the criteria, he does not have the value, he does not have the integrity to be called the apex leader.
"Joe Igbokwe has decided to divide ndigbo in APC in Ejigbo here and it is not happening in only this local government but in other LCDAs because he is creating problems for APC
"They insisted on holding the inauguration excluding the other two factions. My Own faction is in support of Jude Idimogu who is the apex leader in Oshodi/Isolo constituency II
"Joe Igbokwe sent policemen to come and throw Ndigbo in APC out of the party secretariat in Ejigbo
She therefore called on the governor, Babajide Sanwo-Olu and national leader of the party, Asiwaju Bola Tinubu to intervene in the matter for proper harmonisation.
Also speaking, Nick White Obom, youth leader, Ndigbo in APC, Ejigbo LCDA said Igbokwe was creating problems even as he queries why he could have planned for inauguration of executives in the LCDA without carrying the number one political.leader in the area along.
He maintained that the inauguration would not hold
He said, "Joe Igbokwe is giving us headache. How could he plan for an inauguration without the knowledge of Hon. Jude Idimogu who is the number one Igbo political leader here in Ejigbo and by extension the whole of Lagos State.
"Jude is not in the picture, Hon Nelly Okafor who controls the third faction is not in the picture, neither myself youth leader.
"Everything here is shrouded in secrecy, we sought to know the persons to be inaugurated, they refused. We asked for the list, they refused. What are they doing, who are those people they want to inaugurate for us here? They have refused to give us the list.
"Up to this very moment, we have not seen the list of those they want to inaugurate.
"These people here are carrying along only their relatives. They are sitting in government and have vowed to use government machinery to surprise us.
We have said no to them.
"There is no going to be any inauguration here today," he submitted.
Frank Okwuoma, an executive member of Oke-Afa Ward under Ejigbo LCDA quipped that what Igbokwe was doing is wrong and dangerous to the well being of the party.
Okwuoma who is popularly known as Okadigbo stated that "Why are they interested in creating this faction. Am interested in uniting these factions which they have shown their unwillingness to do. We are only seeking that all the factions come together.
"It is not in our interest that Joe Igbokwe comes here to inaugurate his faction, split the party here in Ejigbo without Jude Idimogu who is supposed to be the number one citizen here in Ejigbo, what an insult.
"How can Joe Igbokwe who does not live here in Ejigbo would want to come and lord it over us and over Jude Idimogu who resides here, create faction in APC here in Ejigbo, it's really unfortunate.
"Jude has been our leader and representative for over seven years, you don't want to accept that, you have refused to carry him along and you want us to accept such, We wouldn't accommodate that.
"We have said no to that inauguration, it will not happen we have insisted.
So long as Idimogu is not party to this inauguration, there wouldn't be any inauguration."