Customs
Western Marine Command takes delivery of additional 4 patrol boats, recoups over N110 million from smugglers
Western Marine Command takes delivery of additional 4 patrol boats, recoups over N110 million from smugglers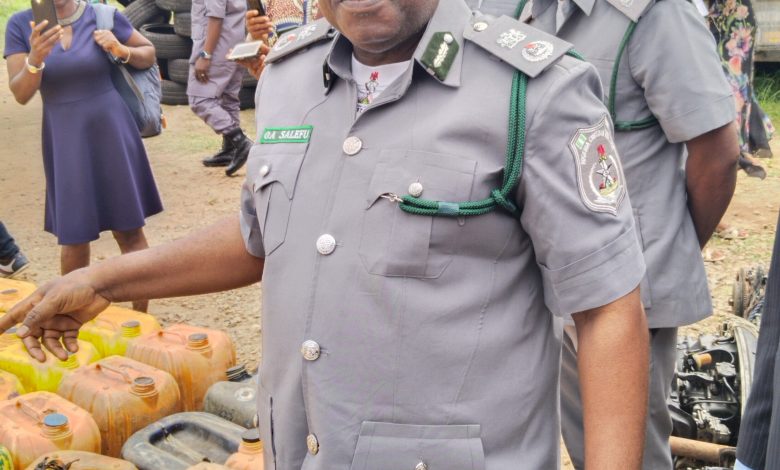 Segun Oladipupo
The Customs Area Controller of Western Marine Command of the Nigeria Customs Service, Comptroller O. A. Salefu stated that the command had received four additional four patrol boats for its anti smuggling operations
He maintained that the new facilities are meant to aid suppression of smuggling activities within the inland waterways.
The amphibian arm of Customs also stated that two gunboats and two logistics boats were received from management of the Service between march 28 Nd 3rs of April, 2023.
He made the disclosure at a press briefing held at the command headquarters in Lagos on Tuesday.
In all the command has procured seven boats even as he said three other watercrafts were expected from the manufacturers anytime soon.
Responding to question on the state of the seagoing vessels; Customs Pride and Group of Nine, he said they were under repairs and would soon be deployed to the creeks.
He added that some officers are under training to man the vessels which will soon take off
On anti smuggling activities, the helmsman told journalists that between January and March, recorded 15 incidents of seizures that had a Duty Paid Value (DPV) of N110,195,934.50k only
He pointed out that management of the Service has shown unflinching support and motivation towards providing all necessary logistics for her operations.
On the seizures recorded within the three months under review, the Area Controller noted that the command recorded 1,519 bags of 50kg bags of parboiled rice, 8,825 litres of Premium Motor Spirit (PMS) contained in 468 kegs of 25 litres each and 700 pairs of foreign used shoes.
Other items seized according to him, include: 20 foreign used ladies bags,88 cartons of Caro White Cream , 50 pairs of expired tyres and 3 outboard boat engine plus one water pumping machine.
further disclosed that five suspects were been arrested within the period but have been granted administrative bail pending when charges will be proffered against them in court.
While reiterating activities of the command in the last three months, he stated that" All actions of our operatives is in line with the provision of sections 149 ( power to search) vehicle and ship) and 158 (power to patrol freely) of the Customs and Excise Management Act (CEMA) Cap C45LFN 2004 as amended ".
Continuing, he said "In line with the responsibilities conferred on the Nigeria Customs Service by provision of the CEMA Cap45 law of the federal republic of Nigeria LFN 2004, as amended the Western Marine Command continues to suppress smuggling along the south western waterways and creeks."