Maritime
Warning strike day 2: "No going back until our demands are met," MWUN insists 
..says APMT insensitive to workers'plight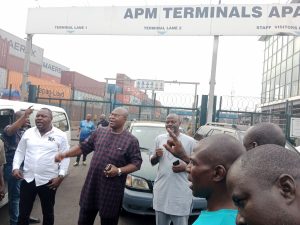 The leadership of Maritime Workers' Union of Nigeria (MWUN) has stated that there is no going back in its demand for fair treatment and salary upgrade for its members from the management of the largest container terminal in Nigeria, AP Moller Terminal (APMT).
Recall that the union took the industry by surprise yesterday when it shut down operations at the terminal following refusal of the concessionaires to yield to Workers' demand despite meeting with them seven times.
As a result, the President General of MWUN, Comrade Adewale Adeyanju instructed members of the Dockworkers Branch to continue the warning strike at the terminal.
The Union boss instructed leaders of the branches to ensure that the industrial action continues, adding that all district executives in Lagos seaports show solidarity with the district.
According to him, the union will not tolerate the ill-treatment of workers by the port concessionaire noting that the MWUN has been fair enough to follow the rules of engagement before the industrial action.
Meanwhile, Dockworkers Branch President, MWUN, Comrade Ibrahim Tajudeen Ohize at the entry gate of APMT, on Thursday morning as at 7.30 am local time, reiterated the Union's commitment to workers welfare.
Ohize stated that the industrial action will continue until management of APMT respond positively to their demand.
He disclosed that management of the Nigerian Shippers' Council has indicated interest to engage the union as part of strategies to resolve the trade dispute.
Asked about the Council's intervention, Ohize maintained that the workers can only vacate the gate and commence operations only when the management of the terminals respond positively.
The Dockworkers President affirmed that two vessels are already stranded at the quayside of the terminals, accusing the concessionaire for failing to respond to their demands.
Speaking on the dockers demand, he said the main problem is fighting for is the take home of the workers.
"You won't believe it that any worker that is leaving APMT today is going home with N500,000 .00 irrespective of  the years.
"APMT is the largest container terminal in Nigeria and they can't tell that they cannot take care of their workers when smaller terminals are doing far better than them," Ohize added.
He also commended some of the district executives present for their prompt responses in furtherance to the solidarity support.
Our correspondent also witnessed a large number of dockworkers at the entry point of APM.Terminals, Apapa with vehicles serving as barricade to the facilities.