News
TRAINING: Oyo NSCDC train officers on surveillance tactics, prosecution tools 
TRAINING: Oyo NSCDC train officers on surveillance tactics, prosecution tools 
The Oyo State command off the Nigeria Security and Civil Defence Corps (NSCDC) has trained it's officers and men on tactical monitoring of worship centres and tolls for prosecution.
Deputy Superintendent of  Corp (DSC) Okuneye Oyindamola, CDPRO in a statement e-signed, said that the move was part of the ingredients to prepare the officers and men of the Corps towards security challenges in the country and to protect territorial integrity of the nation.
The theme of the three days training programme for divisional heads and other officers and men of the Corps is "Prosecution as a tool for effective service delivery and special tactics needed on surveillance at worship centres in Oyo State."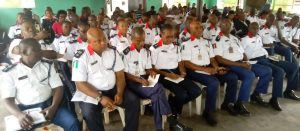 The CDPRO added that the training which is holding at Area A command of the Corps at Railway Quarters Iyaganku, Ibadan, the state Commandant, CC Michael Adaralewa charged participants to surrender themselves for the protection of lives and properties of the people of the state by making use of the knowledge acquired during the training.
Also speaking, Head, Training, NSCDC, Oyo Command, DCC Kabir Baffa stressed the need for the officers and men of the Corps to understand the effective way of defending the defenceless as the only assignment the agency is saddled with.
His words, "If the officers that supposed to protect do not know the techniques of protecting, it is a disaster."
On the importance of information gathering for effective policing as a tool in successful operations, the Deputy Commandant of Corps DCC Soji Akingbade, Head, Intelligence and Investigation, made it known that without credible and prompt intelligence gathering, there will not be any successfully completed operations.
He enjoined the participants and the general public to always equip the Corps with credible information about the happenings in their jurisdiction.
While speaking on the special Tactics needed on surveillanceat worship centres in Oyo State, Deputy Commandant, DCC Patunola Oladeji, Head of Operations of the Corps in the State, emphasized the importance of understanding the environment as a tip in policing or protecting the people of the State especially during the worship on Fridays and Sundays in the State.
He said, "We have started and we shall continue to be present at all worship centres in the state as implemented by the Commandant General of the Corps, CG Ahmed Abubakar Audi mni phd.
In the course of the training, the Head of Legal Unit in the State Superintendent, SP Kabir Babatunde gave some legal tips to the participants on judicial process of filing cases for prosecution.
In attendance at the workshop are the Assistant Commandant Agbetiloye Kolawole, the Area C Commander Takie Ogbomosho and Deputy Suprintendent Olafimihan Dele from Counter-Terrorism unit who takes participants on drill and Martial art.