Maritime
Togo assures MOWCA of timely take-off of Regional Maritime Development Bank.
Togo assures MOWCA of timely take-off of Regional Maritime Development Bank.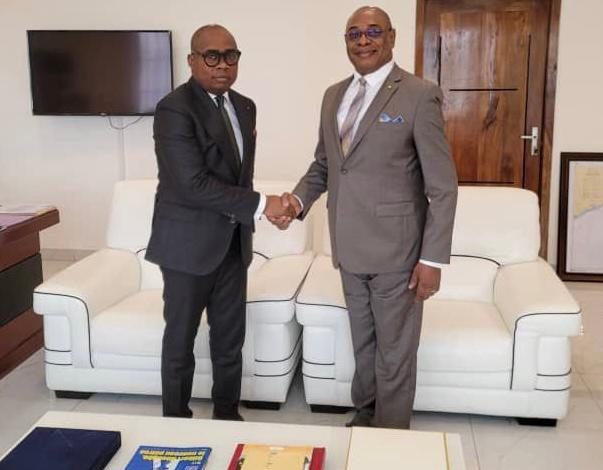 Dr Paul Adalikwu ,Secretary General , Maritime Organisation of West and Central Africa (MOWCA) has been assured of Togo's readiness to contribute to the timely take off of the Regional Maritime Development Bank, whose charter they had assented to, with a promise to diligently consider the appointment of Togo's representative of the bank's Board of Directors and pay up his country's arrears of contribution to MOWCA.
The SG also received support of the government of Togo in promoting shipping as a core element for the success of African  Continental Free Trade Area (AfCFTA).
Adalikwu who was in Lome at the instance of Mr Edem Kokou Tengue, the Togolese Minister of Maritime Economy, Fisheries and Coastal Protection also received reassurance of the West African country's commitment to actualisation of the transformation of MOWCA to African Maritime Organisation (AMO).
The Minister further recommended to SG MOWCA to include in his action plans the promotion of African Shipping Lines to serve the interests of African shippers, the strengthening of cabotage regime with a view to boosting intra-African trade, the use of fuel compliant ships in line with  international standards for vessels calling at African ports.
The MOWCA SG who described intra African trade as a right step for continental economic growth identified existing and emerging ports in African Union (AU) member countries as viable gateways for trade , investment, job creation and sustainable economic relationship.
According to him, the reality of African countries having finished products with traceable origin on the continent while also exchanging agricultural produce and services places a need to maximize the continent's maritime potentials in actualisation of the AfCFTA objectives .
He commended the government of Togo for it's interest and sustenance of a viable maritime sector that attracts investors with a deep seaport fitted with  ship to shore (STS) cranes and additional capacity for improved maritime infrastructures
Dr Adalikwu informed Tengue of some recent  activities of MOWCA under his watch including working visits to Ministers of Côte d'Ivoire, The Gambia, Sierra Leone, Cameroon, DR Congo, Ghana, Nigeria, and in the nearest future, Chad, Gabon and Equatorial Guinea for rebuilding confidence.
He also intimated Tengue of MOWCA's engagement with the Secretary General of International Maritime Organisation (IMO) and steps being taken towards closer ties with  African Union, African Development Bank (AfDB), World Maritime University , Korea International Cooperation Agency, Japan International Cooperation Agency and AfCFTA.
He added that MOWCA has embarked on the need assessment at the Maritime Academies and the other Specialised Organs under it like the Ports Management Association of West and Central Africa (PMAWCA) and the Union of African Shippers Council (UASC).
On the issue of collaboration with IMO, Tengue agreed to be in attendance at the London meetings holding from 2nd to 5th October for which a Circular Letter was sent to all member States, and to get his country involved in the planning of the Conference on anti-piracy laws of member States.