Maritime
Safety awareness: LASWA donates life jackets to Whanyinna school students
Safety awareness: LASWA donates life jackets to Whanyinna school students
Lagos State Waterways Authority (LASWA), on Thursday, donated life jackets to students of Whanyinna School in the Makoko area of Lagos State.
The gesture is in continuation of the agency's safety awareness campaign.
The school, located in the coastal area of Makoko Lagos, is owned by whanyinna Children Foundation, a charity organization that uses education to combat child labour, illiteracy, malnutrition, crime and healt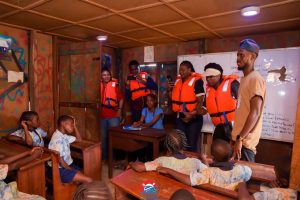 Whanyinna School has partnered with Chess in Slums Africa to enroll and educate out-of-school children. As part of its commitment to the school, Chess in Slums Africa strives to facilitate training and technical support and teach the children how to play chess.
LASWA officials educated the students on safety precautions, especially on how to wear a lifejacket properly.
The students and LASWA team also engaged in an enlightening Chess game while taking a tour of the area.