Politics
Rt. Hon. Okeke receives HoR Certificates of Return from INEC
Rt. Hon. Okeke receives HoR Certificates of Return from INEC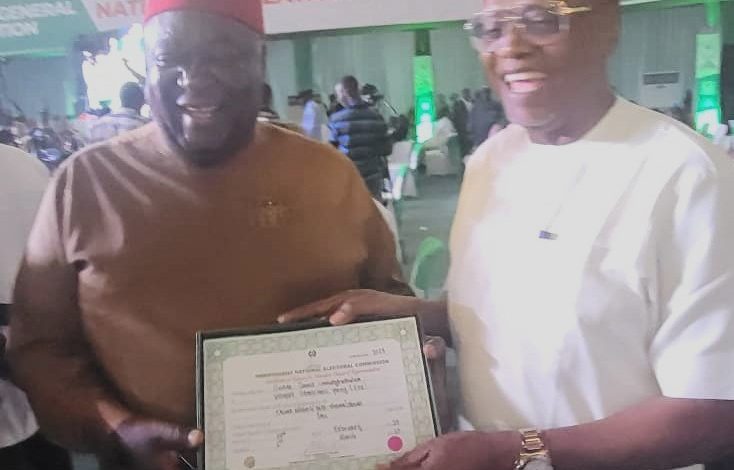 …promises development of constituency, lauds opponent for congratulating him
The member-elect for Okigwe South federal constituency in the federal House of representative, Rt. Hon. Jonas Okeke along with other 324 other elected House of Representatives members on Wednesday, received their certificates of return at the International Conference Centre (ICC), Abuja.
Speaking after receiving the certificate of return, Hon Jonas, a former Deputy Speaker of the Imo State House of Assembly said he dedicated the victory to the unity, peace, and development of Okigwe south constituency.
Hon. Okeke popularly known as Uncle Joe, thanked his closest riva,l the All Progressives Congress (APC) candidate, Deacon Chike Okafor for his show of large heart by sending congratulatory message to him.
"My own brother Chike has proven detractors and enemies of our people wrong by sending congratulatory message to me.
"Like my brother, Chike has told me that this indeed is a hard-fought victory for all of us, that God has a hand in everything that happens to us as humans. He has also promised to lend me his support to move our constituency forward."
Uncle Joe added, "I take responsibility for those who may have spoken rudely to him and possibly others during the election even though I am not behind such.
"Election, we are all aware is submitting ourselves to the people to accept us to serve them. The people have chosen me at this time to be their chief servant, not because am the best or most qualified of all the others of my brothers who have indicated interest to serve, it is grace and favour of God.
"I will go to any length to get what belongs to Okigwe South, they all voted for the growth and development of our area regardless of party, even those that did not vote for me, are all parts of my constituents.
"I make bold to say that there shall be no dichotomy in the provision of gains of democracy to our people. I will work with the state governor, distinguished Senator Hope Uzodimma, as my governor who controls the affairs and resources of our state for the betterment of our people.
"I will work well with whosoever becomes Speaker of the house. I will also work excellently well with the president of the federal republic of Nigeria for the interest of my people.
Okeke who harped on the need to support the youths who are leaders of tomorrow through education and employment, announced that he will takeover payment of WAEC and NECO registration fees for all pupils in Okigwe-South.
"I will take over payment of West African Examination Certificate (WAEC) and National Examination Council(NECO) exams registration fees of all pupils of Okigwe south henceforth. At worst I take loan to achieve this, it's a covenant. My God I serve will not disappoint me.
"I will not segregate, there will be equal development and employment for all communities of Okigwe South. I will live a legacy. I will work out modalities to offer children from the 31 electoral words scholarship which will be for the poor of the poorest because the essence of governance is to impact life.
"I will create room for massive employment to reduce crime.
We will support and revive vigilante of the old in our communities. Survival is not a rocket science. We need to rediscover ourselves. By so doing, our sons and daughters abroad will feel free to come home and develop our area rather than staying in Lagos, Port Harcourt and Abuja whenever they are in Nigeria."
On infrastructure, Hon. Okeke who is a federal Surveyor who has contributed in the gas line piping of most northern states of the country promised to liaise with appropriate federal and state agencies to get the Mbakwe road built at all cost.
"Dee Sam Mbakwe is a pride to us in Okigwe South. It's an aberration that a road named after him will be at such dilapidated state.
"I will stop at nothing to make sure that road is brought to perfect state. If it means becoming a weeping reps member, I wouldn't mind.
"The Isinweke- Ezinachi road must be completed. I will excavate the file of that project wherever it's hidden. The road and the bridge must be completed. Whosoever that is standing on the way to it's realisation, am sorry for such a person.
"We will get our own share of government employments, for our children in: oil and gas, Central Bank of Nigeria, and very many other various government agencies.
"Imagine that we have gas companies/gas loads in places like Umueze or Uzinomi or any other part of Okigwe South, they will come and build roads and provide other amenities in the area as part of their Cooperate Social Responsibility(CSR).
"We would no longer be going after banks, they will come on their own to establish in our area, telecommunication companies will come. I know that banks go to money, money does not go to banks.
"We will attract local and international aids to our rice farmers in Mbano, Uboma and Obowo. Also encourage genuine farming/farmers to reduce unemployment and provide food for the teaming Imo populace.
"We will make sure our able bodied men and women are not idle. Because idle mind is devils workshop. When one goes to work in the morning and comes back in the evening, the person will get tired, such fellow would not have time to think and engage in crime," Uncle Joe stated.