Crime
Oyo NSCDC boss charges officers on effective policing of 2023 elections, protection of INEC facilities.
Oyo NSCDC boss charges officers on effective policing of 2023 elections, protection of INEC facilities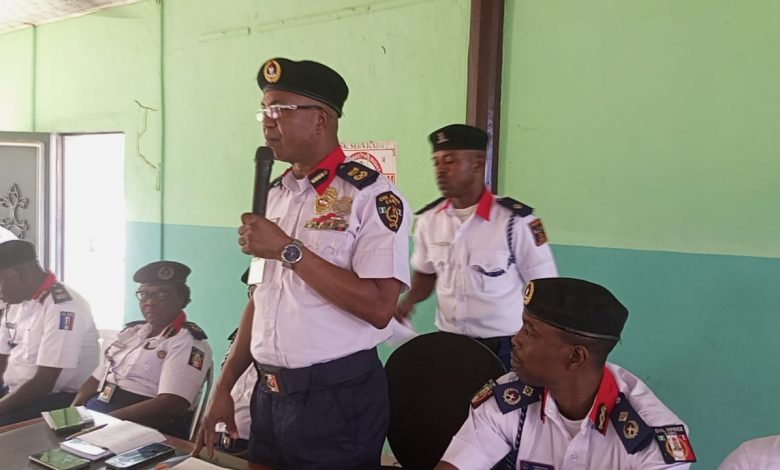 The Oyo State command.of the Nigeria Security and Civil Defence Corps (NSCDC) on Tuesday, mandated the training of the officers and personnel of the Corps in the state on effective policing in the forthcoming general elections in the state.
The security outfit also mapped out strategies of policing the 2023 general elections.
The State Commandant of NSCDC, CC Adaralewa Michael made this known during the monthly briefing with all Heads of Departments, Area Commanders, Unit Heads and all operational heads in the State at Area A Command, Railway quarters, the venue of the briefing today.
Commandant Adaralewa Michael mandated that the training of officers and men of the Corps will commence in earnest accordance to the Commandant General's order on compulsory training of officers in line with the electoral guidelines stated for the uniform personnel participating in the 2023 general elections in Nigeria.
"If the 2023 general elections in the country goes well, it's a plus to the Security Operations of the nation", says Commandant Adaralewa.
Meanwhile, he reiterated his concerns towards the coming general elections and charged his men to be focused, disciplined and conduct themselves well and not foiling the rules concerning fundamental human rights during the ongoing political campaigns and the election proper.
He directed that all Independent National Electoral Commission (INEC) facilities and the electoral materials including the personnel of the commission are well protected as independent National Electoral Commission buildings and materials are part of Critical National Assets and Infrastructure which is part of core mandate of NSCDC.
Commandant Adaralewa later enjoined the citizens of the State to join hands with all security agencies by providing the security agencies with adequate and timely information to protect them better.
"When you see something, say something".