Politics
Omo-Agege predicts massive defection of PDP members to APC in Delta 
Omo-Agege predicts massive defection of PDP members to AP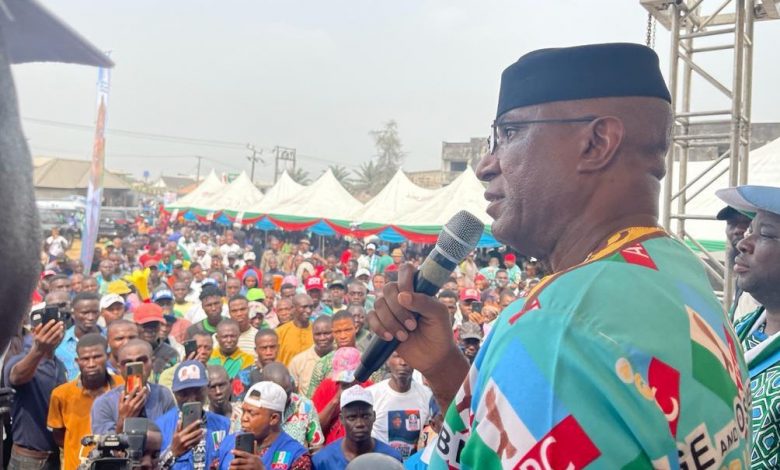 …promises to construct road, link bridge across Isoko communities
Deputy Senate President, and Delta All Progressives Congress, APC, governorship candidate, Senator Ovie Omo-Agege, has said there will be a tsunami of defections from the opposition Peoples Democratic Party, PDP, to the APC in the days ahead.
He spoke at the ongoing APC Ward to Ward campaigns, Monday, January 9, at Iyede-Ame and Ofagbe, both Isoko communities, in Ndokwa East and Isoko North LGAs respectively.
While welcoming the latest top level decampees from PDP, notably former House of Assembly Speaker, Chief Monday Igbuya; former Delta State Oil Producing Areas Development Commission, DESOPADEC, Executive Secretary, Chief Andy Osawota; former DESOPADEC Commissioner, Chief Pius Ovbije, aka POC; and former Executive Assistant to Delta State governor, Dr. Ifeanyi Okowa, on Technical Education, Michael Akpobire, Senator Omo-Agege said this is just the tip of the iceberg.
"I can comfortably tell you that Governor Okowa and PDP have seen nothing yet. In next days and weeks ahead, there's going to be a tsunami, and it will shake Delta PDP to its very foundations.
"Already, we have been informed that other senior members of the party like BOT member, Chief Judith Enamuotor, and former House of Representatives member, Mrs. Almona Isei have left. They are joining us.
"Governor Okowa is so wicked that even his own party members are angrier than even others. In Seven years and seven months, he has received over N4.2 trillion. But look at our state. There's absolutely nothing to show for it. Instead, all we hear are allegations that he has used N25billion of Delta money to float a bank.
"Last week, I challenged him to tell Deltans the truth about the bank. I'm still waiting. We are all waiting. And to add insult to injury, he goes and brings Sheriff Oborevwori, a man whose academic and moral credentials are in public dispute, to succeed him as governor. That's the biggest insult of all."
Senator Omo-Agege enjoined Deltans to join hands to terminate Governor Okowa's "illicit dream" to be Vice President. The way to do this is to vote massively for APC presidential candidate, Bola Ahmed Tinubu, as well as all other APC candidates across the board.
Meanwhile, renewed hopes of a good life have risen in communities across the Ase River as Senator Omo-Agege, has made a commitment to address the problems confronting them when elected governor.
Speaking at the rally at Iyede-Ame, Senator Omo-Agege promised to construct a road and a bridge across the Ase River that will link Ofagbe, Ibrede to Iyede-Ame.
He also promised to make the primary and secondary schools in Iyede-Ame functional by ensuring that within his first 100 days in office as governor, adequate number of teaching and non-teaching personnel would be deployed to Iyede-Ame.
"I am convinced that in a Community like this where there is no light, no school, no potable water, you don't also have a hospital. I commit to you that we will do something about that. We will give you a befitting health center."
He urged the people to also vote Asiwaju Tinubu for President so with his help at the federal level, he would execute all the projects with ease, especially by engaging the services of interventionist agencies like the NDDC.
"Whatever you do, ensure that we control the federal government. If you vote for me and you don't vote for Tinubu, I would be like an orphan.
"Whatever commitment I make today is on my behalf and on behalf of Tinubu. I know you have supported a PDP government for the past 24 years and Iyede-Ame remains as it is. Despite your obvious abandonment, Okowa and his people are still saying that you support the PDP. I believe it is wickedness for anybody to campaign for PDP here. It is evil"
He expressed gratitude to the monarch of Iyede-Ame, HRH Simeon Egwe, the Odion of Iyede-Ame, for his support assuring that he would not forget his gesture after becoming governor of Delta State.
Highpoint of the rally was the spiritual enthronement of Senator Omo-Agege as governor of Delta State by Archbishop Julius Ediwe (JP) of the Chapel of Love Evangelical Worldwide, Port-Harcourt, and President of Niger Delta Ministers Forum who on behalf of himself and his members, declared and enthroned Omo-Agege as the next governor of Delta State.
"Many persons have become governors of Delta State but none has stepped his foot on this village. Because you are becoming the next governor, God enabled you to come here to be enthroned. For this reason, I declare from heaven, not by might or by swiftness of race, but by God that shows mercy, receive the mercy to be governor."
Earlier on, the President General of Iyede-Ame, Engr S.V.O Emebeyo in a welcome address lamented that for the past 24 years the people of ward 18 have consistently impressed the PDP with their votes, "but we have been rewarded with a bag full of empty promises which is evident in all the area, beginning from the unconstructed road, lack of electricity, lack of pipe-borne water, lack of healthcare facility, lack of teaching personnel in our primary and secondary schools.
"Our hope was renewed when you became the Governorship candidate of the APC and given a boost with your choice of Chief Engr Friday Osanebi, our son, as your running mate. We assure you of victory at the polls and wish to ask you to do all the things that have been maliciously denied us by the PDP over the years."
In faith and assurance of fulfilling his promises, the people raised the Community war song and honoured Ovie Omo-Agege as their saviour.
Senator Omo-Agege is the first governorship candidate to step foot on Iyede-Ame. In 1980, Prof Ambrose Ali came to the banks of the Ase River to commission a poontoon but did not cross over into the local community.
At Ofagbe, he promised to make the Ofagbe technical college functional. He also promised to pay all outstanding pensions within six months in office as governor, while asking the people to punish Okowa for his misrule of the State by voting APC.