Uncategorized
Olugbenga Fagbenle from Ile Oke emerges new Obaala of Otan Ayegbaju
Olugbenga Fagbenle from Ile Oke emerges new Obaala of Otan Ayegbaju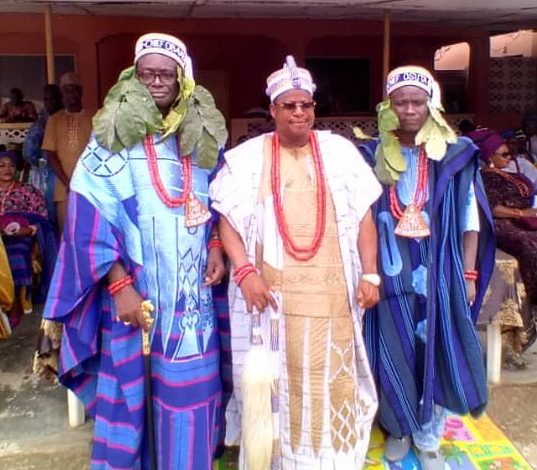 High Chief Amoo Olugbenga Fagbenle has emerged the new Obaala of Otan Ayegbaju in Boluwaduro Local Government Area of Osun state
Fagbenle who hails from Ile-Oke compound of Otan ayegbaju, was installed by Owa of Otan ayegbaju, HRM Oba Lukman Adesola Ojo Fadipe. Arenibiowo Olatanka lll after due consultations and thorough investigations by the kingmakers of the ancient town.
The installation ceremony which took place on Friday, 25th March, 2022, was attended by people from different walks of life.
High Chief Fagbenle emerged from Ile Oke two centuries after Obaala Aribihusi Afeyintoke, was installed by Oba Fawole the first in the late 18th century.
The Obaala chieftaincy title is the head of Iwarefas (other chieftaincy title holders) and second in hierarchy to the paramount king of the town.
Part of his resolutions is to bring the town closer to the seat of power and to bring to bare his wealth of experience by putting Otan Ayegbaju among comity of progressive towns
According to him, he will explore his new title to alleviate the poverty level of the people of the town especially the downtrodden.
Enthused, he thanked the Oba of the town and other chiefs for their supports, love and endorsement.
He also expressed appreciation to the Ile Oke family for standing by him all through the preparations and the ceremony proper as well as their belief in him.
Born 65 years ago, High Chief Fagbenle who doubles as an architect, attended St.Stephen's Primary School and later Lagelu Grammar School, Agugu, Ibadan in Oyo State.
He joined Joint Design Practice (JDP) (AA) from where he proceeded to study at the Manchester School of Science and Technology to study Architecture.
He worked briefly in UK, returned to Nigeria to work with Femi Akande partnership before establishing his own company (Contra Projects Limited).