Politics
OGUN HOUSE OF ASSEMBLY 2023: I am in race to win — Adekunle, debunks rumors of stepping down
OGUN HOUSE OF ASSEMBLY 2023: I am in race to win --- Adekunle, debunks rumors of stepping down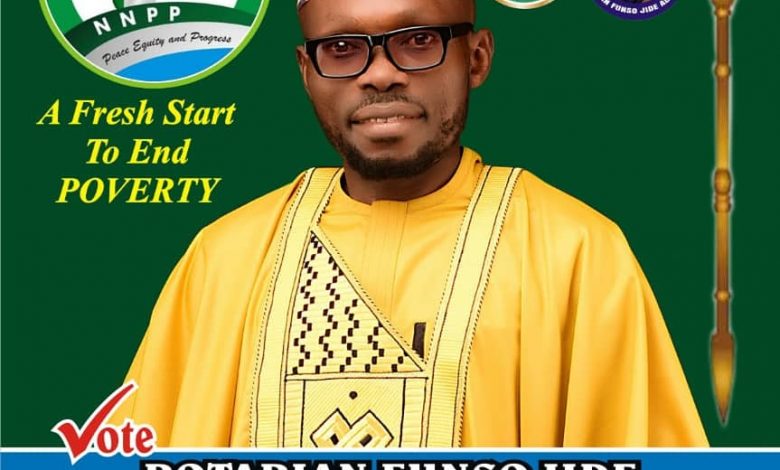 …says door open to receive others.
By Emmanuel lkpeama
Ahead of the forthcoming Governorship/House of Assembly Elections slated for March 11, the House of Assembly Candidate of the New Nigeria People's Party in ljebu Ode State Constituency Ogun State, Hon.(Rotarian) Funso Jide Adekunle has once again debunked the rumours of his withdrawal from the race.
He therefore called on desperate politicians to eschew politics of lies in the state
In a statement by Honourable Funsho Campaign Organisation (FUCO) on Friday, the House of Assembly candidate said the upsurge in misinformation, malignment, and outright fake news against him within the few days to the assembly election was a testament to the acceptance of his message of awakening the electorate in his Constituency.
Apart from the fake news about him stepping down for any political party, he noted that other candidates were already jittery of his popularity because he is a grassroot politician.
Adekunle, a youth activist maintained that the people of the state are already aware of the antics of some political parties which cannot take them anywhere in the forthcoming election.
The statement read in part: "We are neither for any political candidates or for any other parties in Ogun State,their anger is that the citizens have woken up and are ready to take back our State.The claimed political alliance of PDP and many other parties with our great party New Nigeria People's Party (NNPP) is false.
"We want to inform the good people of Ogun State that there was no time Ambassador Olufemi Ajadi Oguntoyinbo contesting as Governor, Ogun State, and myself Hon.(Rotarian)Funso Jide Adekunle, candidate representing Ijebu Ode State Constituency under New Nigeria People's Party (NNPP) formed alliance with Peoples Democratic Party (PDP) or any other political party with a view to stepping down," he submitted.
The House member hopeful warned politicians against disinformation and misleading statements, stressing that false information could be detrimental to Ogun State democracy at the forthcoming governorship and House of Assembly elections.
He described Ambassador Comrade Olufemi Ajadi Oguntoyinbo who is contesting as Governor, Ogun State, as a man of his word, a visionary leader and astute politician,who is tested and trusted, therefore cannot form any alliance with anybody as this was another lie from a political schizophrenic, whose political career was built on falsehood and manipulations.
"Rather than allowing those political liars to distract us, Oguntoyinbo will focus on how Ogun state will have a new facelift and how our youths can begin to dream again while technology will be harnessed for the progress of everyone," he stated.
"We urge the good people of Ogun State and all our NNPP faithfuls to remain cool and calm. Let us come out enmass on that day March 11, 2023 and cast our votes for NNPP in Ijebu Ode State Constituency and Ogun State at large.