National
Multichoice: consumers will be protected at all costs – Senate President 
Multichoice: consumers will be protected at all costs - Senate President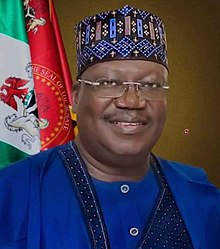 The Senate President, Dr. Ahmad Ibrahim has warned .tichoice Nigeria not to take Nigerians for granted
He stated this when he 5oks the pay tv not to go ahead to hike the tariff of its products while the matter is still 7bder investigation
He gave the warning as a result of complaints lodged at the upper legislative Chamber leading to resolutions that there should not be tariff hike asking the 0ay tv to revert to pay per tv service
He therefore 8naygurated a seven man committee of the debate lead by senate deputy chief whip, senator Aliyu Sabu Abdullahi.
Speaking, Lawan said that Nigeria had places for foreign investment but  against breach of its laws, insisting that there would be punitive measures for law breakers.
He added that consumers would be protected at all costs while urging Multichoice to stay action in increase of tariff until the outcome of senate investigative committee.
He stated further that the setting up of the committee was in consonance with parliamentary rules
"Meanwhile, stay action. No increase. And that is to say don't dare our country. No increase in tariffs," the Senate President warned.