Maritime
Merchant Navy congratulates Adeyanju on his emergence as NLC first Deputy President
Merchant Navy congratulates Adeyanju on his emergence as NLC first Deputy President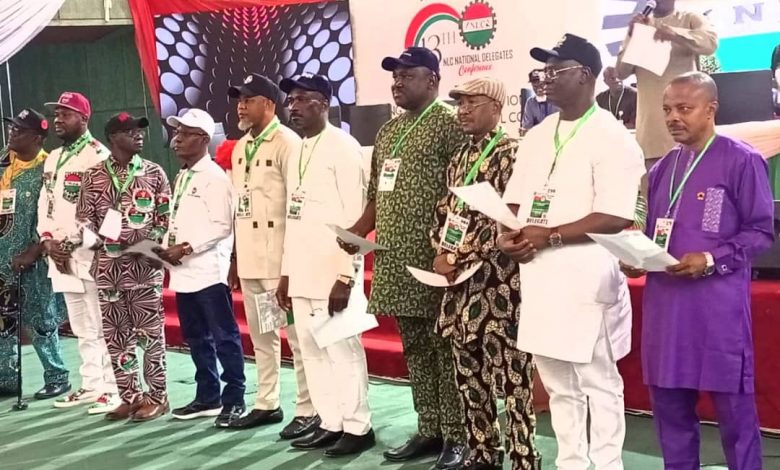 The Merchant Navy Officers and Water Transport Senior Staff Association (NMNO$WTSSA) has congratulated the President General of the Maritime Workers' Union of Nigeria (MWUN), Conrade Adewale Adeyanju on his emergence as the first Deputy National President of the Nigeria Labour Congress (NLC)
In a statement signed by the Secretary General of the union, Comrade Aleakhue John Okponofor ND on behalf of Merchant Navy, the union congratulated Adeyanju in the new position.
Merchant Navy said it hoped that the new position of the mwun boss would aid the negotiating powers of the unions in the sector.
Full text of the statement, "We the entire executives, members and staffs of the Nigeria Merchant Navy Officers and Water Transport Senior Staff Association ably lead by Chief Engr. Bob Joseph Yousuo heartily extend our warm congratulations to you as you add another feather to your cap as the newly elected 1st Deputy President of the Nigeria Labour Congress (NLC) at the just concluded 13th Quadrennial National Delegates Conference held from 7th – 8th February 2023 at the international Conference Centre, Abuja.
"We were delighted to hear of your victory in on Wednesday's election as the 1st Deputy National President of Nigeria Labour Congress (NLC).
"Your being elected to the exalted position was well deserved as a dogged fighter, indefatigable and result oriented labour leader. We are confident that your antecedents and as the current President General of one of the most articulated and viable unions in Nigeria, your influence will continue to encourage our proud tradition of involvement in worthwhile legislation and extant laws that supports the welfare and wellbeing of Nigerian workers especially this time we are earnestly advocating for collective bargaining Agreement. We hope your position will further help and ensure the support of NLC to these laudable initiatives.
"Working closely with MWUN ably lead by you, over the years now had helped us understand and appreciate your level of commitment towards ensuring that Nigerian worker's welfare is of utmost paramount to you. As an icon of computer unionism, your exemplary leadership qualities, steadfastness and human relations is second to none.
"We pray that by the special grace of God, your tenure as 1st Dep. President will take the federating Labour Centre, NLC to an enviable height.
"Once again, accept our hearty Congratulations Sir!
"Solidarity forever!"