News
June 1 deadline: okada riders say they will return when tempo goes down 
June 1 deadline: okada riders say they will return when tempo goes down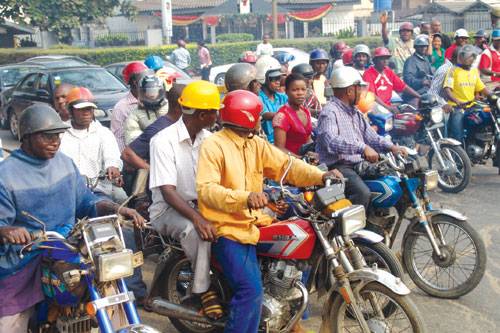 Commercial motorcycle riders in some parts of Lagos who have been asked to quit the highways, six local government areas and Nine Local Council Development Areas, may immediately obey but plan to resurface after sometimes.
Most of the people that our correspondent spoke with, said that they would hang around to observe proceedings pending when the hues have gone down before making comeback to their business environments.
Some of the riders who are mostly northerners, when asked, simply said they would be around in their houses with their motorcycles parked at home but not with intent to relocate outside the state or environment.
They believe that with time, the tempo would come down during when they would return to the road in continuation of their trade.
Recall that Lagos State had ordered that commercial motorcycle riders should quit plying their trades on highways and six local government areas in Lagos
Also recall that this is not the first time the state government has threatened to quit commercial motorcycles from Lagos roads without success.
But the recent order, according to the state, will be effective even as all the security outfits in the state have been briefed by the governor, Mr. Babajide Sanwo-Olu
Speaking with some okada.riders today in Apapa, they said they would obey the order but would wait for the tempo to simmer with the intent to come back to the road.
There are thousands of commercial motorcycles across Lagos roads and streets.