Maritime
ITF moves to negotiate single global CBA for workers 
ITF moves to negotiate single global CBA for workers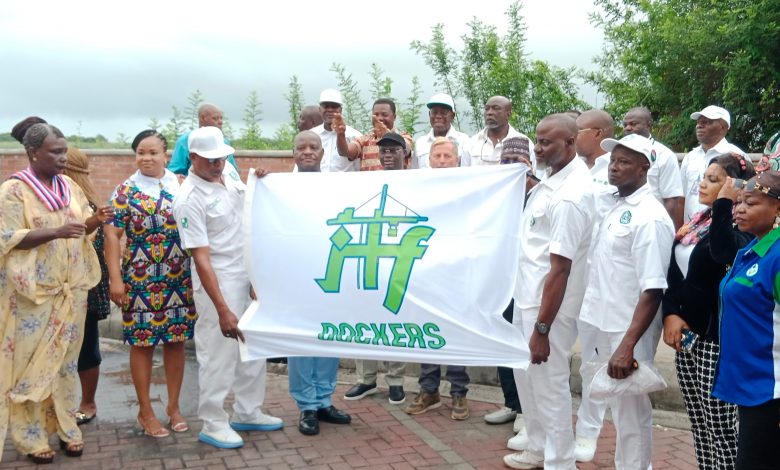 International Transport Workers' Federation (ITF) Africa Regional members on Monday moved to adopt a single Collective Bargaining Agreement (CBA) for workers in AP Moller Terminal (APMT), other multinational companies.
The decision is borne out of the unfriendly workers treatment meted out to workers by the management of the multinational companies in African region.
The workers believe that a uniform CBA will afford workers across the globe the opportunity to enjoy same working condition, welfare and benefits as their counterparts in other regions
The Agreement if perfected, will put workers in Africa region and their counterparts in Europe, America and.other parts of the world at par.
In a unanimous decision, the members from London office, Nigeria, Ghana, Liberia and Kenya at the meeting in Lagos agreed to constitute a technical committee to engender the terms and conditions as well as find out what obtains in other climes that will inform the content of the proposed CBA.
Speaking, the President General of the Maritime Workers' Union of Nigeria (MWUN) called for a technical committee that will facilitate the single CBA
He made the call on the heels of alleged poor treatment of workers by some multinational companies especially in African countries.
He added that the single CBA would put paid to anti workers practices of some employers who have no respect for the laws of the countries where they operate.
"What we are saying here in Nigeria is that we need the support of ITF to have what I call global CBA where we will have a single CBA in all the multinational companies
"If we have single CBA, it will stop all these mess that multinational companies are doing to the African countries
"These people are making money from Nigeria and other African countries but they are using it to develop their own countries and they are not going what they suppose to give to the people that own the land and they are not empowering them
"Just a single CBA, I 5hink it is going to take care of all these anti labour attitudes perpetrated by multinational companies
"I remember when APMT came into this country in 2006, we gave them benefit of doubt that they will do what they are supposed to do but the result is the other side of it..
"They don't have respect for the laws of the country because they think they have the money and everything," he stated.
Also speaking on the development, African Regional Secretary, Barr Mohammed Safiyanu said that the members should make sure they the global standard is achieved.
He said that the development would help to achieve seamless negotiation with employers.
He thereafter charged women to stand up to take up challenges in vying for positions in the union and not just to fold their hands to watch things unfold without their contributions.
Citing example of the Liberian Jackie Dock workers National President who was recently elected as the Deputy President of Liberia Labour Congress.
Put us at the fore front of the issue first so that anytime we want to intervene, we will know that is is the right time
What I am saying is that we will make sure we have the global framework. We have a successful one that is working with DHL.
Anytime DHL has a meeting globally, ITF goes there and participate. So when we have this global framework, it will benefit us and we won't have any challenge and anytime we want to have a review if CBA, we will know.
Let us make sure we have this global standard not only in Africa but also in other regions.
The union leaders agreed to convey another meeting where the terms will be perfected and the technical committee will be selected to spare head the supposed contents of the CBA before it is being tabled before the concerned multinationals.
Present at the meeting are; Enrico Totolano, Head Dockers, ITF, London, Barr. Mohammed Safiyanu, Africa Regional Secretary, Ayo Ohiwere, ITF representative in Nigeria, Comrade Adewale Adeyanju, President General, Maritime Workers' Union of Nigeria (MWUN).
Others are; Jackie Doe, National President, Maritime Dockworkers in Liberia, Matreda Danson National Trustee, Dockworkers Union, Kenya, Marian Atuguba Acting Administrator, Industrial Relations Officer, Maritime Dockworkers Union TUC Ghana, among others.