News
Insecurity: 'No need to panic,' Omotosho assures Lagosians 
Insecurity: 'No need to panic,' Omotosho assures Lagosians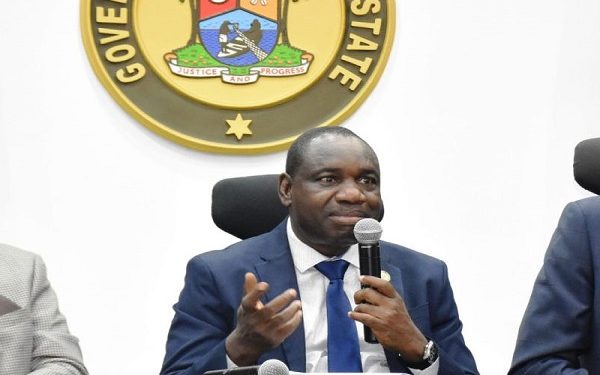 Lagos State Commissioner for Information and Strategy, Gbenga Omotoso has reassured Lagosians that there is no need to panic over the recent reports of security threats in some States, including Lagos.
Omotoso spoke today on "Lagos In Focus", a Jordan FM programme in which he cleared the air on the threats and outlined the State's plans to ensure the safety of citizens.
His words: "First, let me just reassure Lagosians that there is no need to panic. It's true that intelligence has been put out there and people have seen it, but I tell Lagosians that there's nothing to panic about. Mr. Governor, Babajide Sanwo-Olu, has held a meeting with all security agencies and they are all at the alert".
"The meeting, which was held a week ago, had all members of the Lagos State Security Council comprising the Navy, Army, Air Force, Police, Immigration, Neighbourhood Watch, Road Safety and others in attendance."
Omotosho said the reports generated at the "expanded" security meeting prompted the Governor to personally reassure Lagosians that there was no need for anxiety as his administration was supporting security agencies with resources to aid effective and efficient operations.
"Our administration is spending a lot of money to motivate security agencies in terms of giving them equipment. Don't forget that Mr. Babajide Sanwo-Olu was part of the setting up of the Lagos State Security Trust Fund in 2015. The private sector has also been doing a lot, walking closely with the government to ensure that security agencies have all the support they need to do their job very well. So, I do not think Lagosians should panic at all because of this information, they should go about their businesses without any fear that anything could happen to them," he said.
Asked why Lagos is not part of Amotekun, the Southwest security outfit, Omotoso said the assumption was borne out of the difference in nomenclature. He explained that Neighbourhood Watch had been in operation for a long time, doing what Amotekun was set up to do.
Omotoso said: "Lagos was part of it when it was launched in Ibadan, and we contributed materials, ideas and gave support to the formation. The law setting up Amotekun is a modification of the Neighbourhood Watch law; we gave them the template. If people expect the Governor to wear a uniform and match with other people, that's not the way.  Don't forget that the only neighbour we have is Ogun State; the other is the Atlantic Ocean. The Neighborhood Watch has been very effective".
There's also a joint commission between Lagos and Ogun governments to tackle security breaches on the link bridge at Kara end of the Lagos Ibadan expressway."
Concerning the ban on commercial motorcycles in some parts of the State, the Commissioner noted that there's over 90% compliance and enforcement as about 6,000 motorbikes have been crushed, okada accidents have reduced considerably, lives are being saved on a daily basis, the snatching of bags and phones using motorbikes has reduced and citizens can go about their daily activities without fear.
He further assured that the State Government was stepping up efforts on street lights by removing the energy-consuming lamps and replacing them with those that consume less energy.
"We are trying as much as possible to ensure that all of the ones that are on generators are connected to public electricity so that we can save cost."
Omotoso also affirmed that Akesan-Egan road, which is presently bad, will be repaired soon, as Lagos State Public Works Corporation is working day and night to ensure roads are rehabilitated.
In response to a listener who expressed the need to strengthen the broadcast signals of Lagos Television, the Commissioner said Governor Sanwo-Olu recently approved the purchase of some equipment for the Lagos Television to enhance the quality of programming and broadcast operations of the station.