Maritime
IMO Sec. Gen., Kitack Lim commissions new NIMASA head office, lauds Minister, Jamoh.
IMO Sec. Gen., Kitack Lim commissions new NIMASA head office, lauds Minister, Jamoh.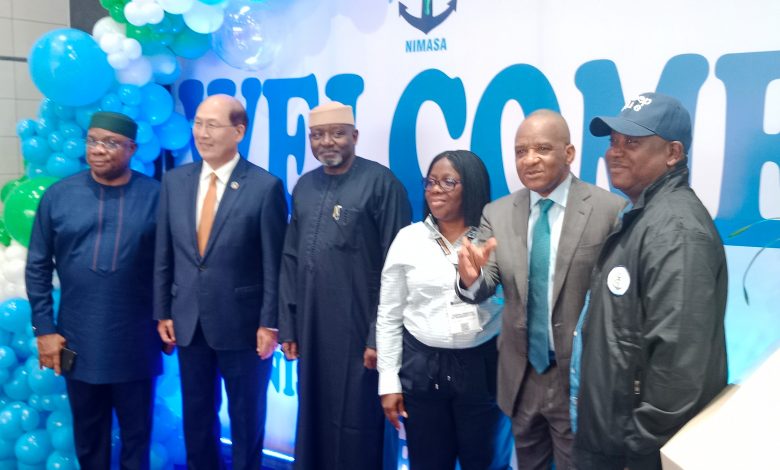 The Secretary General of the International Maritime Organisation (IMO), Kitack Lim, on Tuesday, commissioned the new office complex of the Nigerian Maritime Administration and Safety Agency (NIMASA) in Lagos.
The commissioning translates to the fact they the agency would move its staff to the new location at 35, Adetokunbo Ademola Street, Victoria Island, Lagos.
Speaking, Lim extolled the leadership prowess of the Minister of Transportation, Dr. Mu'azu Jaji Sambo and Director General, of NIMASA, Dr Bashir Jamoh.
According to him, human competence and capability are important elements of growth.
He commended the Minister of Transportation, Mu'azu Jaji Sambo for his extraordinary leadership qualities, describing him as an extra ordinarily super excellent minister.
The IMO scribe who said Jamoh was a super excellent leader, added that he had confidence in his ability to lead Nigeria's maritime to recording more developments and achievements.
"I am very confident to look forward for much more prosperous opportunities and developments of maritime activities of Nigeria."
Also speaking, the Permanent Secretary, Ministry of Transportation, Dr. Magdalene Ajani while congratulating the management and staff of the agency for the feat, quipped that entire west African maritime region would be transformed by the project
Her words, "I want to congratulate the entire staff of NIMASA for this befitting accommodation because the work environment is very vital to the productivity of a staff
"So,we have that moving from Burma Road to this location will definitely provide that right work environment and so we expect increased productivity from all NIMASA staff."
The Chairman, House Committee on Education, Safety and Administration, Hon. Linda Ikpeazu called on Jamoh to improve on his efforts to achieving more for the Country's maritime sector.
She commended the imo Secretary General for his visit to Nigeria saying NIMASA DG had done a wonderful job but should be encouraged to do more even with the level of work already done.
She lauded the Minister of Transportation for steering a wonderful ministry.
"I want to tell the DG that he should continue to improve because one keeps improving until death.
"You have the commitment to take the maritime sector to a greater height and we are so happy to have you steer this ship."