Maritime
Gloom, tears as Akingboye, MWUN Secretary buries wife (Photos)
Gloom, tears as Akingboye, MWUN Secretary buries wife (Photos)
The remains of late Deaconess Abike Akingboye, aged 68 was on Friday, 18th November, 2022, committed to mother earth in Oko Oba, Agege area of Lagos state.
The deceased was the wife of Secretary General of the Maritime Workers Union of Nigeria (MWUN), Comrade Felix Akingboye.for 45 years before death came calling
Late Deaconess Akingboye died on the 10th of October 2022 in Lagos. She was survived by a loving husband children and grandchildren.
99
She served at the Nigerian Ports Authority until her retirement in 2006.
The Funeral had in attendance, President General MWUN Comrade Adewale Adeyanju, Deputy )resident Generals, Harry Tonye, Francis Bunu, Udoh, Vice President Generals, Abubakar, Funmi Fasan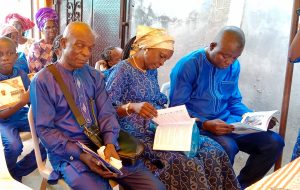 in
Others include the branch presidents; Ibrahim Ohize, Ekpeyong Ekpeyong, Ifeanyi Mazeli, branch, District executives, secretariat staff, among others.