Politics
Ejigbo endorses Idimogu for Federal House of Representatives
Ejigbo endorses Idimogu for Federal House of Representatives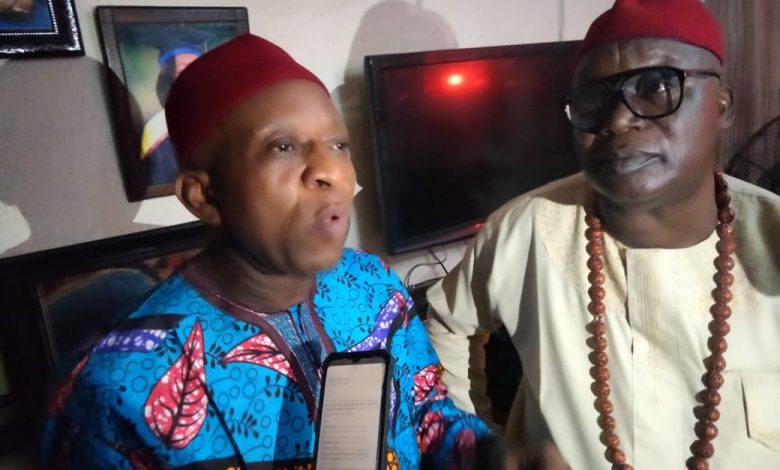 The people of Ejigbo Local Council Development Area (LCDA), have endorsed Hon Jude Omobowale Idimogu as their consensus candidate for the position of the Federal House of Representatives come 2023.
Idimogu is the Lagos State House of Assembly member representing Oshodi/Isolo constituency II.
The two-time House member is consulting his constituents, seeking support for his ambition to run for the House of Representatives for the same Oshodi/Isolo II federal Constituency come 2023.
Having attained a level of political relevance and other factors considered in today's Nigeria Politics, the Igbos and other tribes are convinced that Idimogu has done so well as state assembly member that he is worthy to represent the constituency at the federal level.
Believing that he cannot achieve it alone, he needs the anointing of elders and leaders of the party and his constituency too to be able to scale through.
Idimogu said, "My coming here is to show that this palace belongs to all Igbos, it's the most senior palace in Ejigbo under our Eze Onye 'Ndu Babaselu, Eze Alex Nwoye.
"My reason for coming is to tell him, palace members and 'Ndi Igbo' of my intension to contest for House of Representatives come 2023. At the same time seek his blessings".
"I don't expect him to be in the known through social media or third party reports he needs to be informed formally"' he continued.
"He has blessed me and we believe that by God's grace we will triumph, Idimogu added.
On the current crises rocking 'Ndigbo' in the All Progressives Congress (APC) in Lagos State, the House member said the cause was simply that some group of people came together to colonise 'Igbos' in Ejigbo and wanted to lord it over them.
"I'm politically, the first citizen of this constituency, the first Igbo political office holder in Lagos which include Ejigbo, and I deserve some respect.
"How could you think of inauguration of the party executives here, and you cannot brief me, and could not bring it to my knowledge, rather you are hiding it from me. If such person were to be in my shoes, would he swallow such?" Idimogu asked.
According to him, the issue is that in politics you don't give room for your opponent to defeat you in your home. You have to stand and fight, posterity will be by your side.
"Someone left his own constituency and came to an elected leaders' constituency, when even the person is not contesting election. There is a difference between elected person and an appointee. An elected person always has preference over appointee.
In as much as I don't normally boost, but the truth is that now I have made up my mind to stand and fight for my right,Idimogu clarified.
The House member however dismised every insinuation the crises would affect his ambition.
He said: "Politics is a game of number, can't you see the crowd here. The people that came here despite the rumour, what if the news didn't go out, the population here would have trippled".
"At the end of the day, we are Igbos'. One family, we will definitely meet and find a lasting peace. One obvious fact is that everybody cannot come to you.
"If you can have 80 per cent you are at home at that, that's politics for you.
"But the bottomline is to have a round table reconciliation. What I keep on saying is that I'm not 'ndi Igbo' alone it's the entirety of my people that are 'Ndi Igbo' am only their number one political servant.
You can't be lord over others, everybody is relevant, give them sense of belonging, that's my message, we must come together to agree or disagree, Idimogu expressed.
Expressing the confidence in his people and constituency the law maker however thanked all for the large turn out.
Chief Odinaka Iwu, is the 'Onowu'(Traditional Prime Minister) of the Ejigbo Igbo Palace. He expressed the happiness over the coming of the House member to let known his intention.
"I'm glad our Eze has prayed for him. I'm telling you, the words of elders is the words of God. Tonight, his blessing to him is an endorsement.
"No man shall stop him, even his personal mistakes can't stop him that's our prayers for him.
"The Eze Ndigbo has spoken, this is the only man that has combination of titles the (Eze).
"He has Yoruba and Igbo title. He has been the Babaselu of Ejigbo for over fifteen years.
"He is the Igbo leader combined, he is endowed with double influence of authority.
"When he blesses you, it's a dual blessing. When he combines his authority, it speaks volume.
I will tell you tonight that Idimogu swims in authority now like never before. He is blessed, our Eze has wished him well and prayed for him, so shall it be, the word of elders is the word of wisdom, Iwu reiterated.
Balogun Usman Atanda is the
Chairman, Abundance Group, Ejigbo, LCDA. He describes Idimogu as a detribalised Nigerain. According to him, you can't go to his house with sorrow and not come back with joy and fulfilment regardless of your social status.
The chairman of Abundance Group the political structure of of Hon. Idimogu who has worked closely with the lawmaker for over three years now described Idimogu as someone that has a listening ear irrespective of tribe, religion or political affiliation.
"Omobowale is a godly man, he dislikes cheating, shortchanging, especially the common people.
He wants unity among the Igbos in particular and among other tribes here in Ejigbo. He does not play do or die politics.
He loves Yoruba, Hausa, Igbo as well as other indeginous tribes", he expressed.
Not only that he preaches love in Oshodi/Isolo, but in the whole of Lagos state he has implored his Igbo brothers to be united to get what belongs to them.
"As the new Abundance Chairman of Oshodi/Isolo LCDA, I will do my best to make his dream come through.
"I will mobilise both the Igbos, Yorubas, Hausas as well as the South- South to the realisation of this dream.
"I'm very optimistic that all the tribes will support Jude Omobowale Idimogu in his ambition to aspire to the House of Representatives make an independent assessment of the popularity and love of my Oga among his constituents and beyond, you will be marvelled", Atanda stated.
Chief Chinedum Jackson Ndudim and High Chief Obinna Ezenwa who have lived in Ejigbo for over 30 years believe Idimogu is a good product to sell.
Idimogu is a man who has pedigree and Integrity, Ndudim believes that if not that Nigerian political system oftentimes does not guarantee the best emerging victorious, he would have asked all to go to sleep because Jude is a good wine that needs no bush.
He said Ndigbo in Ejigbo will soon embark on voters registration drive, as voters cards would be means of admission of members into gatherings of Ndigbo in Ejigbo henceforth.
For Ezenwa, he is happy that in all things, Idimogu has continued to preach peace and love among the Igbo.
"Whether we are for Idimogu or not, this is not time to dwell much on that because campaign hasn't started. We are waiting for that time to come, for us to showcase what we can do."
Hon Ozo Okafor described said Idimogu's kind of Politics as devoid of do-or-die which according to him characterises Nigerian polity of today.
Unarguably, Idimogu is a gentleman, he loves peace, togetherness, and he's sincere. He is a real politician.
"He is a very good representatives that carries his people in the heart. He knows that In Lagos state we can't impose our will on them, wherever they are, we follow them, and go according to the will of the party.
The Leader, Ndigbo in Ejigbo Local Council Development Area, Eze Ndigbo, and Babaselu of Ejigbo, Eze Alex Nwoye, concurred that as far as Igbos in Lagos was concerned, Idimogu was number one political leader.
"He came on consultation, he is equally a member of this 'Obi Ndigbo of Ejigbo politically.
"He has every right to aspire for any position in Nigeria. He has come for our blessing. My message is message of peace which I know him to symbolise.
"Politics is not a do-or-die affair and I'm happy that's the same message Jude is preaching"' the Igbo leader stated.
"He has our people behind him, he has done a lot for our people, the Igbos, the whole world has been seeing what he is doing. He is our man, he however needs to work harder", he added.
Nwoye who noted that he was not the only one contesting, urged the House member to work hard. "You can see the crowd here today, do respect all mankind", the leader advised.
"We are against anyone that would bring shame to the Igbo community because this place is not our fathers land.
"What we can't practice in our own homes, it's not ideal to put up such here, he further advised.
The palace will make sure our people and people around us are registered to vote, the Igbo leader promised.