Customs
My 3 point agenda in Tincan Command – Compt. Oloyede
My 3.point agenda in Tincan Command - Compt. Oloyede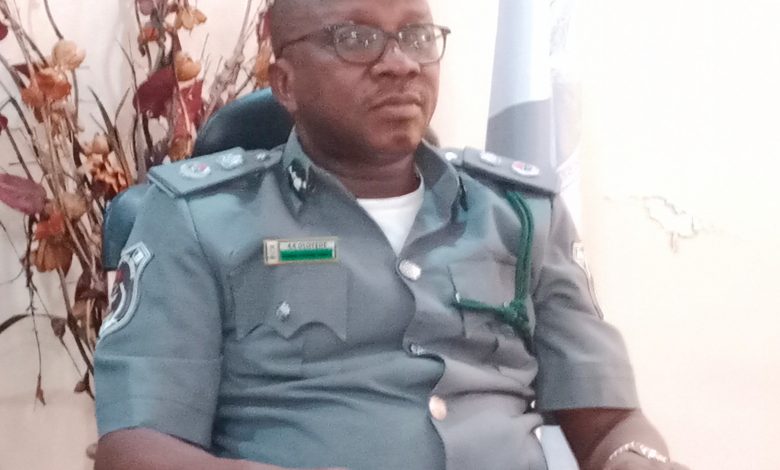 The Customs Area Controller of Tincan Island Command, Comptroller Kunle Oloyede has stated that his three points agenda as the Controller.of the command are; discipline, increase in revenue and trade facilitation.
The Controller stated.this recently when the executives of the Association Maritime Journalists of Nigeria (AMJON) paid a courtesy visit on the controller in his office in Tincan.
He told the group of journalists that on his resumption at the command, he was given a daily target of N2.5 billion from the N1.5 billion that it used to be before his taking over at the command about six weeks ago.
He said, "The revenue as at the time I got  here was 1.5b per day, so I was given revenue target of 2.5b per day, so I had the first parade and I told my officers three key things in no particular order, discipline, increase  in revenue and trade facilitation.
"I am also in agreement with the WCO and the WTO article that says for West Africa and Africa generally, we should do low tax and high turn around time. When you have low tax and turn around, you make the revenue.
On the controversy over reduction in duty on imported used vehicles, the Controller who confirmed the reduction, states that such move was necessary to check smuggling of cars into the country.
According to him, the duty may drop further because by so doing, smuggling will become unattractive to the people
"Because when you check what is happening around, its those high values, high rate of duty that allows smuggling through our ports.
"Two three days ago, the duty of vehicles dropped to 20%, government is looking at it that why will new vehicles pay 35% and old vehicles also pay 35% when after giving backwards integration incentives to most of these assembling plants, we don't have plans that can really satisfy the demands of transport sector.
"I think that is why government in its decision decided to drop, and its going to drop further. From grapevine am hearing that there could be further reduction  as to discontinue smuggling. We want to make smuggling not to be lucrative again that is the way govt is looking at it.
On revenue drive, Comptroller Oloyede said the management team of the command have started making moves to lire people back to the command for.imotobed revenue generation.
He enthused that since his coming to the command, the revenue has improved significantly due to engagement of stakeholders
"I can tell you, when we compare revenue from the time I came in up to now, we have  over 25 billion extra export, compared to 24 billion it was before because I have been able to lure back people that  are into bulk cargo. I have been able to convince them to come back to Josepdam
"I visited Josepdam today, I told them that my doors are open, the doors of my D.C. enforcement, D.C. in charge of bulk cargo are open
Earlier, the CAC admonished journalists on developmental reportage from well informed judgement of issues before going to the press.
He praised the group for carving a niche for itself saying he noticed that there is a difference in their reports.
"Yes you may have one or two but I always urged you to always ask from both sides before you go to the press, this will give you a very informed judgment about what we are doing.
"When we are contacted, there are certain things we need to correct the impression and there are certain things when we hear it, we need to  apologise. We need to bring all parties to round table to solve problems.
"It's a great opportunity to meet you today because am barely six weeks here."