Maritime
Breaking! Maritime workers demand immediate review of NPA staff salaries after 18 years stagnation.
Breaking! Maritime workers demand immediate review of NPA staff salaries after 18 years stagnation.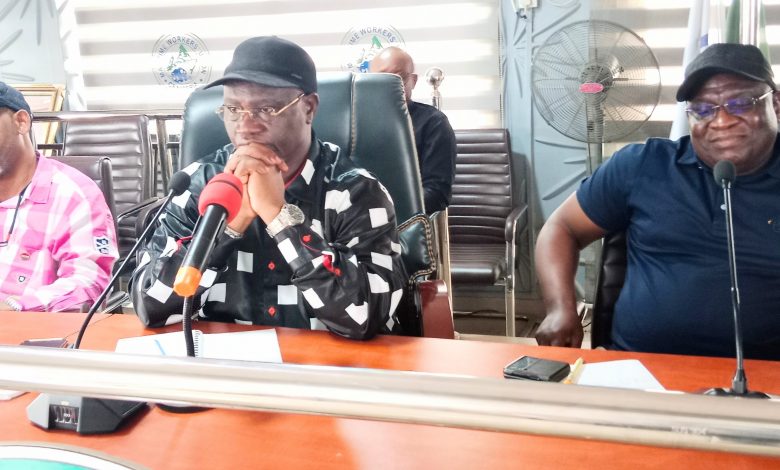 …charges workers to speak up and not die in silence.
The Maritime Workers' Union of Nigeria (MWUN) has demanded immediate review of the salaries of Nigerian Ports Authority after eighteen years of stagnation.
The union described the stagnation as obnoxious, unacceptable and against international labour conventions
The President General of MWUN, Comrade Adewale Adeyanju in a meeting with executives if the NPA branch at the national secretariat of the union in Lagos on Tuesday, expressed shock that such information has been kept away from him all the while.
According to him, the move came as a result of petition by one of the workers in out-port.
He added that if action is not taken on time, it could lead to insurrection among members if the information filtered round the ports.
The union boss stated that things were not well with the workers adding that the fight for increment had started henceforth.
While tendering apology to the entire workers of NPA for not taking action early enough, he maintained that it was not his fault because the information was brought to his knowledge on October 1 during his birthday celebration.
"This one, we will fight it to the last because it is our right. I know the present management of NPA met it on ground but that is not an excuse because government is a continuity.
"We commend them for what they are doing but the problem is the issue of salary, who is holding on to it and the salaries of NPA workers needs to be reviewed and increased.
"If you don't do it on time, the workers may take the laws into their hands.
"I called you today in order to apologies to you. When I saw the ultimatum from Onne, I know that there is problem because if other ports should join them, the result will not be a palatable one.
"Since 2004, why did you not increase salaries? Is it an offence? What did we do? I am sitting as the President General of the union and nobody brought it to my knowledge and I just heard of it on October 1
"Do not die in silence, you have to speak out, you have the right to call me, send a text to me, do not be afraid of anybody.
"We thank them for all the management of NPA has done but they should do the needful and review the salary from 2004. I am not saying your president has not done well, but brief me proper and we might shut down the port.
"There is need for us to tell the management of NPA that the workers are not happy with them.
Our rights must not be mortgaged, we are not asking for bonus on port concessioning yet and we are still going to that.
"I am issuing query to him for keeping the information away from me. I will now face the president and his team."