Maritime
ANLCA elections: Eastern Zone endorses Farinto, Ukwu for President, VP.
ANLCA elections: Eastern Zone endorses Farinto, Ukwu for President, VP.
…Onne Customs boss urges members to vote for competence
.
The Eastern zone.of the Association of Nigerian Licensed Customs Agents (ANLCA) has unanimously endorsed the candidacy of Dr. Kayode Farinto and Chief Dennis Ukwu as their President and vice president respectively.
Recall that the association has slated July 5, 2023 as the NECOM election of the association.
The zone which is noted for its oneness and cooperation gave the verdict on Wednesday in Port Harcourt during the campaign tour by the duo Nd other contestants from the block seeking elective positions.
Speaking, Farinto who narrated some of the challenges of the association in the last five years, listed some of the successes they have made and promised to consolidate on them if elected as the next president.
His words, "Professional colleagues, today marks another turning point in the life of our great Association positively. This is due to the fact that ANLCA has been engulfed in crises which I labelled CONFLICT BETWEEN THE OLD AND NEW ORDER. We thank God for His mercies and His Interventions in our great Association.
"I learnt my lesson during the conflict and with the life of Tony Nwabunike Administration, Vis- a – vis intrigues, backbiting, backstabbing and deliberately circumventing and blocking good policies that would have turn around the life of our members for good. Our prayers is that ANLCA regains her lost glory on time. It is however, possible to achieve this with the New ANLCA we bring to you today.
"Few days ago at the just concluded Maritime Stakeholders' meeting to proffer solutions to ship building and CVFF disbursement, Barr. Emeka Akabuogu said and I quote. "In the area of freight forwarding and Cargoes Evacuation, Nigeria has remained backward because of too much constant bickering among the Freight Forwarders". He concluded by saying the freight forwarding Associations have done a lot of disservice to the Nigerian Maritime Industry as a result of continued bad blood amongst themselves.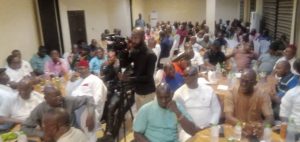 "Gentlemen, wether we like it or not , the Barr. Emeka Akabuogu statement remains the fact in the maritime Industry. It is unfortunate that many of the Associations' Leadership have been hijacked by Camp Boys with the intention to kill the freight forwarding Associations. Whenever we bring issues that can add value to the system, challenge the operational hiccups and human factors militating against our smooth operations . You are tagged and called many names by the enemies of progress to allow the status quo to remain, which has continued to impoverished us, deprived us of professionalism and ethics in line with International best practices.
"However, we say enough is enough. We must move this profession to it's enviable level where we can now sit and compete with our international counterparts . It will interest you to know that as a result of this Infighting with those non conformist, we have lost our project Cargoes to Foreign elements by about 95%, in the East and in the Association in general, I stand to be corrected. The question that we should asked ourselves is should we continue?, The answer is No.
"In view of this, I put myself Forward today to Contest as the National President of our great Association, ANLCA'. I have worked closely with Chief Dennis Ukwu and he has added value to the Association in the East . Hence, I was delighted when he agrees to be the Vice Presidential Candidate. If elected, we shall run an all inclusive Government with others that will be elected alongside us NECOM members .
"Have put up a 10 Point Agenda as a Working Document, let us look at the 10 Point Agenda vividly . Also an idea came to me which we shall pursue aggressively , which is to eliminate the issue of Nigerian Ports Authority ( NPA) licencing and levy which have been on collection in the last three decades . It was a necessity before now, but since the ports were concessioned, It has no value to cargo clearance anymore, because the Landlord has become a tenant of what importance is this collections to cargo clearance? Its negates the practice of Ease of Doing Business policy of the Federal government. NPA has continued to enriched herself with this collection.
"Finally,I want to thank you for your time and assure you that, if you give us your mandate , the only regret you may have is,why haven't we done this election before now".
The Customs Area Controller of Port Harcourt Area II Command, Onne in Rivers State, Comptroller I. Imam has admonished ANLCA members to vote for a competent and capable hand to lead the association in their forthcoming NECOM election.
Led by a Patron of ANLCA, Chief Henry Njoku, the presidential candidate in the election, Dr Kayode Farinto, the Vice Presidential Candidate, Chief Dennis Ukwu, National Secretary, Alhaji Babatunde Mukaila among others, the Customs Controller who described Dr Kayode Farinto as a long time friend says he is the best person for the job.
"I don't see Farinto as the Acting National President, I see him as the president. In fact he is already there, because I know he has the capacity, intelligence and is capable to lead ANLCA. If we were to be part of the voters , I will vote for him and endorsed him now. I urged you all to vote for him because he is competent and capable".
Comptroller Imam who is barely four months old in the Command said he is having a cordial working relationship with ANLCA members and he runs an open door policy.
"My doors are open here, I don't bar anybody from seeing me. In fact, I need information and intelligence from outsiders more than even my officers. if I see you through my screen here , I will tell my officers to allow you in. Am not the best , is only an opportunity to serve . You can be the best, but another thing is to be given opportunity to Serve. So I treat everybody equally", the Controller said.
Responding to the request for training of his members and other challenges faced by his members as posited by Farinto, Comptroller Imam said, he just built a Conference hall and equipped a training centre for the Command and in the next one month he will liaise with the Onne Chapter Chairman, Chief Mike Ebeatu to seek what kind of training his members need to start training them.
On resolving operational challenges faced by freight forwarders, he said the command under his leadership will always resolve trade disputes for a win win on both sides .
Highlight of the visit was when the Area Controller took the team round to show the newly built and equipped Conference Centre, Computer equipped training centre and other infrastructural face lifts in the Command embarked by the Controller within three months in Office.